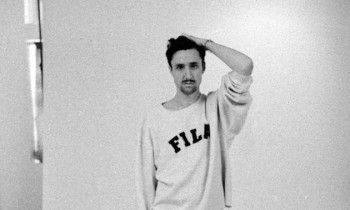 – WHITWORTH GALLERY, MANCHESTER –
I'm a relative latecomer to the stylised, lo-fi R&B sounds of How To Dress Well. At first listen, I was all "I really like this boy band". And there are hints reminiscent of Boyz II Men and R Kelly but not in a bad way.  Rather, he is Chicago-born Tim Krell, pioneering alternative R&B ensembles from his home in Cologne.  He achieves a rich sound by looping layers of his falsetto (Prince-like) vocals with heavy beats and glistening instrumentals.
Total Loss, his second and latest album, is an ethereal work about sadness, death and pain. It is quite beautiful and evocative. It is more polished and cleaner than his experimental debut, Love Remains – which has a murkier and rawer sound, however both are rooted in their subversive nod to the 90's.
The Whitworth Art Gallery sets a very civilised atmosphere this evening. 200 chairs in neat- pew-like fashion. I am sat at the back.  The audience are transfixed. Motionless. Reverent (my friends are scorned for chatting). The long, bold shadows of Krell and his accompanying musician (on laptop, violin and keyboards) on the back wall, adding to the gothic atmosphere.
Krell plays a healthy mix from his repertoire, opening with 'Suicide Dream 1' which is very simple: a naked voice and a violin. His falsetto reverb fills the large white space.  The echoey acoustics suit his sound.
We get more energy from 'Running Back', a real R&B blast. His distant synths and instrumentals transforming it from track that could have been a little bit bland (a disguised version of Ashanti's 'Foolish', I finally worked out). There are some head nods from the audience now as they begin to interact with him.
He sings into two microphones. One to accommodate his louder solo voice, the second as a quieter backing vocal. He is swift and effortless as he switches from one mic to the other, or uses both. Krell is a tremendously visual performer to watch. His body language is animated and passionate. 'Ready For The World' was sung with a higher pitched vocal and a deep undertone beat that built up steadily. I willed it to keep building but the song ended all too soon.
He offers us moments of classical beauty in tracks like the dreamy' Ocean Floor For Everything' which is instrumentally lead with vocals taking a step back. Moving on to 'And It Was U' (you could be forgiven for thinking this was by a boy band!) with an upbeat pop quality to it. I think the audience have begun to thaw out now, the beat setting off some foot tapping and a yearn to dance like it's the 90's again.
Krell is a genial chap. He might have been singing about sadness and death to a fairly earnest crowd, but his witty quips and sound checks between songs were not melancholic at all. He gushes about Manchester and his delight in his visits here.
My favourite of the evening is 'Set It Right'. He warns us, "This one you should feel to your bones". And we did, even from the back. A very stirring and powerful sound, where his sorrow was tangible in the air.
Eager to give us an encore even though the sound and lights had gone off,  he sang us 'Blue' ("My brother's name, because my parents were really stoned") acappella with the house lights up. I liked him all the more for that. We stood and applauded.
And he replied to my tweet thanking him for the gig. Nice chap.