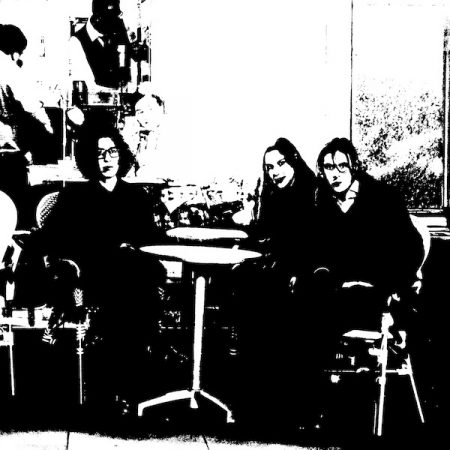 There is a contrariness to Bar Italia. Choosing a name that is difficult to google, more likely to lead to mid-price high street eateries than music, has a wilfulness to it. Calling their debut album 'Tracey Denim' shows a similar awkward streak in selecting a common name (unfairly synonymous with being naff) and denim, one of the most ubiquitous clothing materials, mighty be a case of wanting to avoid preconceptions about their debut album. However, it does suggest something generic. Fortunately, Bar Italia's sound is far from ordinary.
A London-based trio consisting of Nina Cristante, Jezmi Tarik Fehmi and Sam Fenton, Bar Italia previously released two albums and an EP on Dean Blunt's World Music label, prior to signing to the consistently excellent Matador Records. 'Tracey Denim' consists of 15 lean, angular songs that hardly ever venture beyond the two- or three-minute mark or outstay their welcome. It starts with 'guard', a composite of wiggly guitar, insistent keys and nifty cymbal work. It eschews the idea of a chorus and has Cristante taking semi-spoken vocal duties. 'Nurse!' is a song of emotional disturbance and introduces something that Bar Italia do especially well, the interplay between the three vocalists, all slightly affectless and doleful, reminiscent in style to short-lived Matador labelmates, The Goon Sax, or a more guitar-led The XX. The song is carried along on a swooshing guitar line and some groovily minimal bass. 
As a fine soundtrack to striding purposefully under overcast skies in the early 1980s wearing a big overcoat and well-sculpted hair, 'punkt' has the guitar work of a busier early version of the Cure and Echo and the Bunnymen. It reflects how well they merge influences dating back to before their birth with more contemporary sounds. There is an air of grumpy adolescence to the slow building 'my kiss era' ("All my favourite people are misunderstood"). To blasts of post-Sonic Youth guitar, 'F.O.B.' has them contrasting "Rapture of the body / poison of the soul".
'Missus Morality' marries the sentiments ("I know I trip and stumble when I try to be graceful and I don't care if you think it is funny") effectively to the music as it builds to an awkward but enticing glistening guitar barrage. While the title may offer cause to think of Kate Nash, 'yes I have eaten so many lemons yes I am so bitte' suggests their playful nature. With its moving and attractive guitar work, there are elements of sadness and yearning to 'changer' with its lament "it doesn't have to be this way". 
'Horsey Girl Rider' blends growling bass with shoegaze guitar, voices bashing against each other with snippets of words standing out. A duet of miscommunication, 'best in show' opens with the admission "I don't want to look but my eyes just stay open".
Every track on the album has an ear-catching element, be it the infectiously morose bassline of 'Clark', the discord of 'harpee' or the blast of feedback that heralds the album's briskest track, the buzzsaw blast of 'Friends' which is one for fans of abrupt endings.
With its synthesised orchestration, closing track 'maddington' represents a departure from what has preceded it but also offers pointers to a direction Bar Italia could profitably pursue in future. 'Tracey Denim' is a nifty collection of snappy songs and stand-out moments which is part of a golden spell of new signings updating Matador's roster with an album scheduled to follow from Water From Your Eyes (more of whom next week).
Bar Italia: Tracey Denim – Out 19th May 2023 (Matador Records)