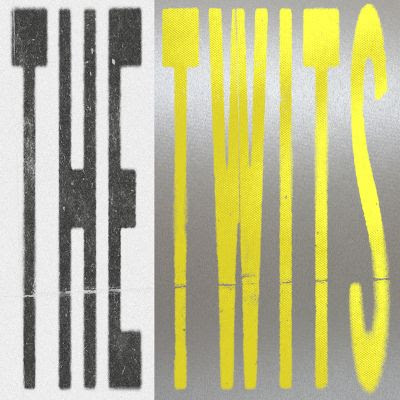 With the arrival of 'The Twits' at the start of November, it appears bar italia are on top of their game: the enigmatic trio's latest offering comes just months after their record 'Tracey Denim' hit the airwaves and streaming services in May, which saw the group hone their trademark vocal interplay and intense instrumentation. Also heavily present in that album was a sense of tension that lingered, subtly yet palpably, beneath the melodies of each song; evident in the haunting riff of 'changer' and 'maddington's' anxious, incessant guitars. Regardless of what its deceptively goofy title may have you expecting, the band manage to push the listener further into this state of unease across their November release's 47-minute runtime.
Opening track 'my little tony' – the first 'Twits' single – enters the ears like a foot kicking open a door.  The familiar fuzz that accompanies Nina Cristante, Jezmi Fehmi and Sam Fenton's every vocal part thrusts itself into the fore instantly, in the form of crashing drums and crunchy guitar chords. An alluringly ominous refrain delivered by Cristante, 'keep playing with my receiving hand,' sounds above the pulsating rhythm; elusive regarding the subject matter yet direct by way of bar italia's unique lyricism.
Perhaps, were you in the presence of a different band, you'd anticipate such an electric song to be swiftly followed by a flurry of similarly frenzied compositions – but bar italia are not in the business of predictability. The listener is instead treated to a blend of brilliant broodiness and spine-tingling zingers across the record, a mixture no better encapsulated in its third and fourth tracks.
'Twist,' the former of the two, is characterised by a swaggering, bluesy bassline and sensual tambourine hits, atop which another mysterious story is told to us (again by Cristante): 'I won't bore you with the details of what happened when she left,' sings the narrator, their implication of the situation's insignificance only piquing our curiosity further. Then, comes the tempo whiplash! The raucous appearance of 'worlds greatest emoter' certainly constitutes one of my favourite moments of 'The Twits,' because of a) the satisfaction that the stark contrast it creates gives me, and b) its quality as a fantastically frenetic piece of music. Those lo-fi, high-inducing drums…the way each member's singing veers from shouty to spoken to breathy in just under 3 minutes…it's just spectacular.
A criticism often lobbied at bar italia is the way Fehmi, Fenton and Cristante sing – or, to said critics' eyes, try to sing. I actually find their distinct vocal style, both individually and as a group, to be charming, as 'The Twits' so frequently demonstrates. In 'glory hunter,' for example, Cristante and Fenton reach ambitious low and high notes respectively, amidst dynamic melodic switch-ups. Moreover, I feel the indelibly cool 'calm down with me' showcases how the trio's off-kilter tones, when placed before a sinister soundscape, can work to equally gorgeous and grotesque effect.
That isn't to say I don't have gripes regarding other elements of this record. Something I did begin to notice, about halfway through 'The Twits,' was how unchanging bar italia's lyrical approach really is: every single song remains firmly rooted in direct address. Though a compelling concept on the face of it – we are to never truly know to whom the words are being directed – the band run the risk of losing the listener's attention and interest in what is being said. In my case, this occurred with songs like 'que surprise' and 'Hi fiver' whose eerie, down-tempo instrumentals are let down by lacklustre lyrics like 'you make me seem innocent/someone has got to laugh' and 'you act like a baby 'cause you feel insecure'.
I'm not wholly opposed to the second-person perspective being adopted by bar italia, both here and in their previous works, but it would be interesting to see what shadowy narrative avenues they could lead us down from other angles. On top of that, I'm also excited by the prospect of hearing Cristante, Fehmi and Fenton singing together more in the future. We are given a fleeting taste of this in the final moments of closing track 'bibs' (one of my favourite offerings on 'The Twits') wherein a vague refrain is morphed into a spiralling mantra by their combined voices.
Whatever the band may still have yet to give, bar italia significantly build upon the material of their May record in 'The Twits,' too: songs like the aforementioned closer and 'Shoo' transport the listener to isolated spaces defined most prominently by wailing guitars and glowering basslines; the idiosyncratic jazz of 'Jelsy' oozes confidence and class, while maintaining that ineffable sense of unease which Fehmi's line, 'I'm sure we'll meet again but probably in hell,' underlines in bold.
Ultimately, 'The Twits' is a signifier of the heights that bar italia have already shown they can easily reach with their rambunctious, grungy instrumentals and charismatic singing, as well as that of what may be in store in their next output. Having enjoyed this goody bag of an album, I eagerly anticipate what that may look like – and another release in six months' time would be extra nice!
bar italia: The Twits – Out 3rd November 2023 (Matador Records)