Utilising the attributes of the genre and applying the fundamentals of the latest main stream trends, Lethal Bizzle's last album showed a clever approach to Grime. The success of tracks like "Look What You Done" featuring Kate Nash & "Boy" featuring Babyshambles, proved his formula, and more importantly that Maxwell Ansah aka Lethal Bizzle, wasn't just another angry grime MC.
His latest single and his debut release for 2010, sees the same formula applied to a satisfying degree. "Go Go Go" gives us a tag team release with Lethal Bizzle partnering with Nick Bridges of Bodyrox fame in the studio, and pop-styled vocals of Luciana Caporosa on the vocals.
The track plays exactly how you'd expect, big dance floor sized bass, a hustled two step rhythm, Luciana's street-wise vocals laying down how Bizzle's got the "Super model girls in tow", and Lethal working the beat to perfectly. Doing exactly what this man does best and no doubt loving every minute of it.
Expect to hear this out in your local Revolution bar and pumping out the back of pimped up rides. Bizzle's back for 2010 and shining bright has ever.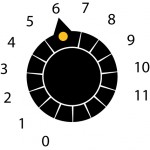 Release Date 17/05/2010 (Lethal Bizzle Records)