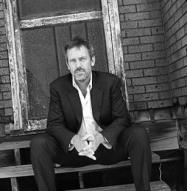 – ROYAL NORTHERN COLLEGE OF MUSIC, MANCHESTER –
It is worth remembering that before Hugh Laurie was the debonair Dr. House, glibly diagnosing obscure ailments and generally maintaining a detached air of alluring misanthropy, he was one half of Jeeves and Wooster. And before that, A Bit of Fry and Laurie. And of course, Blackadder. And Laurie's on-stage persona is emphatically of the school of ungainly British bumbling, as opposed to aloof American indifference.  
In the rather grand setting of the Royal Northern College of Music, one might assume Hugh takes his recent foray into music a little seriously. Such assumptions are immediately dispensed when he affects a sort of parodial jazz-cat amble onto the stage, crooking his arm and clicking his fingers whilst shuffling serenely to his piano. It's a little bit pantomime, and he knows it. Hugh and his band start with a little jaunty boogie-woogie, spritely and unpretentiously setting a chipper tone. The album he's (sort of) promoting 'Let Them Talk' is a fairly straightforward rendering of jazz and blues (though mainly blues) standards. Quite what the highest paid actor in American television has to feel blue about is unclear – though refreshingly, Hugh's blues do not masquerade to be anything other than heartfelt, if a little self-indulgent, takes on a few of his old favourites. And it is obvious he is having the absolute time of his life performing them.  
A somewhat theatrical take on 'St. James Infirmary' is lively and engaging. Hugh bashes his foot along to the beat with carefree abandon, infusing the song with Dr. John-esque swagger and punch. It's a lot of fun. He informs us the origins of the song are unknown, though it is thought to be about St. James Palace (i.e. the place we were all gawping at a few weeks ago) which was built on the site of a former hospital. With Hugh you get both a song, and a little story. 'Battle of Jericho' is spirited and enthusiastic, Hugh yelping fervidly above the tribal thump of the drums. He intermittently switches between piano and guitar, cruising across the stage between songs. He asks us to clap to smooth over the imagine awkwardness of the moment. We clap when shots of whisky are brought on-stage for the band. Then along to a few of the songs. There is a lot of clapping. Winding up the evening with an animated 'Six Cold Feet' and 'Baby Please Make A Change' – a standing ovation begets an encore, albeit very brief one, as Hugh tells us they've only one more song.
Like the bulk of the set, it's a little cabaret, a little dad-jazz, a little less-than-cool. But it's bloody enjoyable.