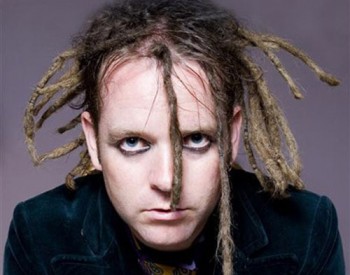 – ST. PHILIP'S CHURCH, SALFORD –
The pews are now full and the congregation are ready for tonight's sermon. The vicar is nowhere to be seen and the raised area in the centre of this Salford church is filled to bursting with musical equipment. Above the performance area and below a huge stained glass window is a large screen, that as soon as the lights go down flickers into life.
Tonight's performance is to encompass the recent ambitious triple album from Duke Special. 'The Stage, A Book & The Silver Screen' is a trio of concept albums which include songs specially written by the likes of Neil Hannon (Divine Comedy), Ed Harcourt and Matt Hales (Aqualung).
As Duke Special and his band for the evening take up their positions, a black and white film of Neil Hannon giving an intro starts to roll. There is a quick "Welcome to the silent world of pantomime" from the Duke and they get straight into 'Hearth & Home' which is the opening track from the part of the trio of albums The Silent World of Hector Mann. All of the songs in this first half of the act are taken from this album and are all based on each of Mann's films.
The Duke is having a break from being sat behind the piano tonight and is taking centre stage. He is as theatrical as ever, by bringing a touch of the vaudeville with him. As during 'Jumping Jacks', a song about a door to door salesman, he holds out in front of him an old battered suitcase.
Before the next song 'Mr Nobody' he gives us a bit of background on Hector Mann, who was a silent film maker of yesteryear and only made a total of twelve films before mysteriously disappearing in 1928.
For 'Country Wide' the Duke sits on a small stool whilst taking on the role of a chauffer, but throughout the chauffeurs' hat is struggling to stay rested upon his dreadlocked head.
The closing part of this first half is ended with 'Scandal' and the stage is vacated for a short while.
It's now time for part two and this is to be songs taken from 'Mother Courage & Her Children. These are all pieces he provided to accompany a recent National Theatre production of Bertolt Brecht's 1941 anti-war play.
In this shorter part of the set we are given songs such as 'Mother Courage', 'The Great Capitulation' and 'Yvette (song of fraternization)'. The last of these is a song about a prostitute, which seems a little weird of a topic to be singing about in a place of worship. All of the songs in this part have a very sombre feel, which is highlighted by the Duke's theatrical antics. At one point as a one of the songs is just played from an old gramophone, he wanders in to the crowd, takes a seat and just sways to the music.
To end the set is 'Soldiers Song' which we are told is a drinking song and as the umpapa music plays the audience start to sway as if in a beer keller in the heights of the Black Forest.
Tonight has been another fine performance from Duke Special, with the emphasis well and truly on the word performance, as has a unique knack of keeping you beguiled from start to finish whenever he takes to a stage.
If you would like a free sampler album of Duke Special's music, then click here. Also if you send your postal address to [email protected] you can get yourself a card cover to put your burnt sampler album cd into.