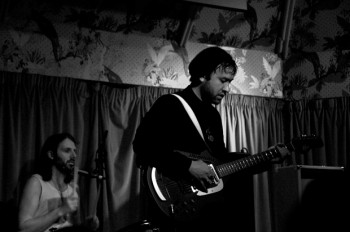 – THE DEAF INSTITUTE, MANCHESTER –
Rushing over from Salford's Media City following a live set for Marc Riley's BBC 6 Music radio show, Unknown Mortal Orchestra appear unsurprisingly hurried as they check their equipment in front of tonight's sell-out crowd. Frontman and New Zealander Ruban Nielsen apologises for any inconvenience caused… Axel Rose and Bieber, take note.
They start with the superb 'Monki', a personal favourite from the new album II. Apology accepted. Ruben sings through a small miked up amp that adds a warm lo-fi quality to his softly spoken lyrics. Drummer Riley Geare has the appearance of a stocky, sweaty, Andrew WK type. Closer inspection reveals that there's a 70's photo of Bowie on is vest. A drum solo from Riley reveals his versatility, pushing from psychedelic garage rock into jazz, which appropriately draws a respectful round of applause from the attentive audience.
Tunes from their first album are featured more heavily than expected. Maybe they're saving something for their Academy 2 gig in November? 'How Can You Love Me' is a little more playful and soulful in comparison to the new material. The otherwise aloof bassist Jake Portrait gets an opportunity here to take it for a walk.
"Something Wicked This Way Comes…"; 'No Need For A Leader' ignites the crowd as some threaten to start a mosh pit. 5 songs in and I already have a dozen reasons to be impressed. 'Jello and Juggernauts' carries a slow groove, leaning close to The Beatles at times. Ruben's unusual pick-less guitar strumming technique produces the occasional missed note, which suits the lo-fi style and nonchalant unpredictable charm of their sound. His run-away solo's more than prove his undoubted skill.
'The Opposite of Afternoon' has most singing along to the summery tune before the rather dark 'From The Sun'. "Isolation can put a gun in your hand…" 'Swim and Sleep' has us all singing again up until an impressive  instrumental that ticks over relentlessly through the use of a persistent single note on the bass. A girl at the front hands Ruben what looks like a charm bracelet and he jokes that they are now friends and the whole band will have to visit her house… she's more than happy.
'So Good At Being In Trouble' slowly cranks us up to the top of the fairground ride, gets worryingly fast and loud very quickly, but then brings us back down to earth with a splash. Photo's of our faces during the descent will be available at the door. They briefly walk off stage – Marc Riley has arrived after finishing his radio show and his incredibly loud, piercing whistles are enough alone to bring the band back for a few more tunes.
The bands range of influences are highlighted with covers of 'Sitting On The Dock of The Bay' (Ruben struggles not to laugh through the whistling) and then Jay Reatard's shouty garage punk tune 'My Shadow'. A couple  other older tunes follow as they improvise and jam, drawing new ideas from each other and basically just enjoy themselves.
The Deaf Institute has a certain sophistication and coolness about it. The silence of the crowd in anticipation between songs, hanging off of every note during, is born through content admiration. The performers here regularly appear surprised at the volume of the cheering when it is such time for the audience to express themselves. The Academy 2 will no doubt attract some repeat customers from tonight's show and the buzz about this band continues to reverberate, looking to build momentum. A larger audience awaits.