– THE DEAF INSTITUTE, MANCHESTER –
Catching a band for the last gig of a tour is a good idea. They've had a chance to perfect their setlist, they know exactly what they're doing, they're (I would presume) keen to go out on a high note, and there's a chance of scooping up some of the remaining merch at  a discount price.
Tonight, Nedry are competing with trip-hop legend Tricky, who is running through his classic album Maxinquaye from start to finish up the road at The Academy. The rather empty Deaf Institute slowly descends into darkness as the sunlight through the skylight fades, but more punters slowly filter in, gathering under the giant mirrorball, queuing for the bar while the support acts play.
Worship have travelled the country in support of Nedry, having also supplied a great remix of 'Here Now Here'. Early efforts from them are hampered by splashy cymbals that mask the other instruments, though the issue is sorted in time for the impressive 'Tightrope', 'House Of Glass' (only available on vinyl) and 'In Our Blood', a tune that they are considering releasing as a single. I think they should. The dark pop vocal and lyrics remind me of Delphic, over melancholy keys and an electro/live drum beat that remains upbeat and interesting.
Some of the material from Nedry's second album 'In A Dim Light' was introduced to me live at The Castle Hotel last November. It made an instant impression, the party atmosphere in the small venue and the energy of the performance made it seem as though all present were already familiar and fond of everything on the setlist… which they couldn't have been. The same setup remains, Londoners Chris Amblin and Matt Parker flank singer Ayu Okakita, whose powerful voice overshadows anything that the other two can produce from their guitars, drumpads, synths or laptops. The vocals on 'Violaceae' run a little wild and the sound engineer has to rein her in a little. Early comparisons to Bjork fade quickly so I can enjoy Nedry's unique sound without over-thinking or searching for possible influences.
Personal favourite 'Apples & Pears' from the first album 'Condors' envelopes us in a comfort blanket of melodies and tender, accented, almost indistinguishable lyrics. Gentle head nodding  morphs into uncontrollable bowing from the waist when a deep, flabby dubstep bassline is unleashed… like an explosion in a Transformers movie. Ayu beckons us forward and then wails beautifully in our faces, with her head facing the sky, eyes closed. She layers her own voice using pedals and switches… the crowd seem to have done the same, the volume of the applause and wooping belies the headcount.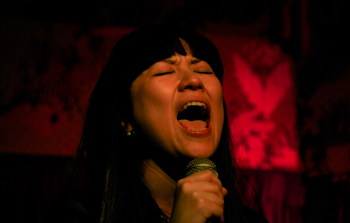 'Home' is another favourite of mine and gladly gets an airing. Ayu now has us all eating out of her hand, the melting pot of sounds seamlessly appear and disappear around her. Drum and bass beats are introduced when the tune ebbs calmly into the ether, lulling onlookers into feeling comfortable enough to start dancing. 'TMA' is a controlled aural assault that ends abruptly, leaving a brief moment of silence so the crowd can gather themselves, before showing their appreciation.
The balance between dark and light, slow and fast has been crafted perfectly here tonight. 'Post Six' ascends to a heady high and another release of pressure… like the whistle on an old kettle. 'Squid Cat Battle' is the perfect ending, acting as a conclusion, summarising everything that they are about in around 4 minutes. An encore for the tour is most certainly wanted but not provided. The queue at the merch stall for £5 t-shirts and autographs sums up the appeal and effect of a stunning live performance that pushed the recorded material to another level and just has to be witnessed first hand.
'In A Dim Light Remixed' will be released through Monotreme Records on May 14th, feat. Polinski, Paper Tiger, Ghosting Season and Worship.