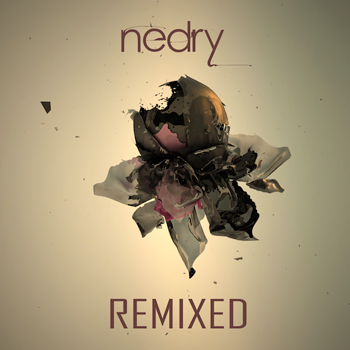 London UK's dark electronic trio Nedry released a special remix version of their second album 'In A Dim Light' this week, via Monotreme Records. The 12-song collection features reworkings by Rosko John, Paper Tiger, Worship, Ghosting Season, Capac, Polinski and many others. It is available at the Monotreme Webstore with a bonus free MP3 of Italian duo M+A's "Yeloww" remix.
British bass music clings to few modern regulations. As grey areas become inviting, zones of conflict are transformed into fertile new ground. Nedry are dictating a path that recognizes no genre, no structures, no rules. Ripping progressive dance culture out of the bedroom producers' smoke stained confines and planting it resolutely on the live stage, Matt Parker and Chris Amblin utilize MPC, laptops, guitars and synths to create a deep, thoughtful musical space.
Nedry are a trio who are dissolving the distance between this cutting edge and hungry audience. Splicing a band aesthetic with the 'heads down and thumbs up' bass craft of the UK, they gift the faceless revolution of dark music an inviting visage within which we can all dwell.
The dazzling fusion of electronica, instrumental rock, dubstep rhythms and hauntingly beautiful vocals of their 2010 debut album 'Condors' saw them tipped for greatness by BBC Radio One, The Guardian, Uncut and Q Magazine. In the past two years, Nedry has performed at the Roskilde, Sonar and SXSW festivals, XFM and BBC sessions and tours with 65daysofstatic, Maps & Atlases and These New Puritans.
Nedry started performing, producing and recording in summer 2008. In a short amount of time they've made waves on the UK electronic music scene, sharing stages with the likes of Pivot (Warp), Maps (MUTE), The Gaslamp Killer (Brainfeeder) and Daedelus (Ninja Tune). Nedry have steadily gathered critical acclaim since the self-released 'SZ' EP and 'Condors' album in 2010, and 'In A Dim Light' sees the band poised for the bright lights.
'In A Dim Light Remixed' Tracklist:
01. here.now.here (M+A remix)
02. TMA (Paper Tiger remix)
03. Float (Jack Allett remix)
04. Violaceae (Rosko John remix)
05. here.now.here (Worship remix)
06. Dusk Till Dawn (Capac remix)
07. Float (Useless Interface remix)
08. Violaceae (Gazelle Twin remix)
09. Havana Nights (Ghosting Season remix)
10. Violaceae (Polinski remix)
11. Float (Midas Fall remix)
12. here.now.here (Familiar Spirits remix)
The digital-only remix release is available from May 14th, 2012 worldwide via the Monotreme Records web store, for £4.
www.nedrymakesmusic.com/
www.facebook.com/nedrymakesmusic
www.monotremerecords.com