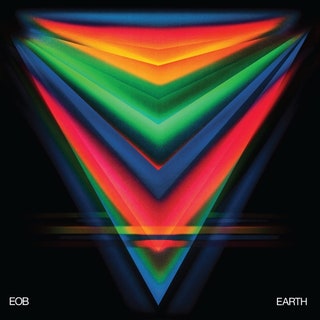 Ed O'Brien, famed guitarist from Radiohead, finally releases a solo album, taking things back to a more guitar oriented sound as opposed to the experimental forays into electronica which his band mates have become known for. It's a refreshing surprise. He's probably had these tunes knocking around for years, trying unsuccessfully now and again to get them into a Radiohead format, possibly along the lines of "Hey guys I've got this new one, can we give it a go?" Radiohead: "Does it have beats which sound like a laptop being thrown down a flight of stairs?" O'Brien: "Er.. no". Radiohead: "Sorry, then, it's a no from us", and before I get berated by Radiohead fans, I actually love that band with all their electronic and guitar genius, but as evident on 'Earth', O'Brien has opted for less glitchy electronics, more guitars, more danceable electro beats, and as this album is O'Brien's vision alone, it feels like a lifetime's creativity unleashed.
Much of the album was inspired by a year O'Brien spent living in Brazil, with O'Brien even naming a tune after the country, which ebbs and flows gently with acoustic guitars and violins the only instruments pushing the song along, until a whoppingly huge bass kicks in halfway through and the carnival electro party begins.
Other inspirations come in the form of the Glastonbury Festival area known as 'Shangri-La' and the late night shenanigans and partying in that are to be had in that space. O'Brien stated recently that he had been listening to 'Screamadelica' a lot during the making of this album and wanted it to have that joyous uplifting feel, and whether it's the more dance electro tunes or the three in the morning style acoustic guitar sections, he manages to keep that euphoria alive.
'Mass' was inspired by the NASA film 'Hubble' featuring his friend, the astronaut Michael Massimo, and is a gentle, ethereal tune whereas 'Cloak of The Night' finds O'Brien duetting with Laura Marling for an acoustic led Pink Floyd-esque harmonious bit of psych-folk. Additionally, he's also joined on the album by Radiohead bassist Colin Greenwood, Adrian Utley from Portishead, Wilco drummer Glenn Kotche and producer Flood who all add their own flashes of brilliance to proceedings.
"I wanted to make a big hearted, warm and colourful album… something hopeful and full of love" O'Brien stated recently, and on this debut solo venture, he's managed to do just that – creating an unexpected triumph of an album.
Earth: Out Now (Capitol Records)
EOB Official | Facebook | Twitter