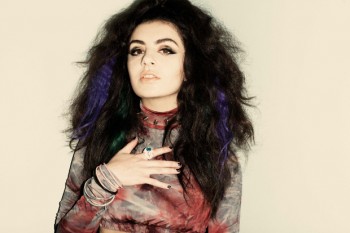 – THE DEAF INSTITUTE, MANCHESTER –
One of my favourite places to watch a gig in Manchester is The Deaf Institute and it is nice to be back realising it has been a year since my last visit. The venue is fairly small which makes gigs intimate, which I prefer. The walls have parrots on them and there's a huge disco ball on the ceiling … I mean the facts speak for themselves!
Any good gig goer knows that the hidden gems are within the support acts, a good act can build your hopes or crash them. I'm the kind of girl that gets to a gig just as the doors open, it's like going to the cinema as the trailers begin, has to be done. The Charli XCX team have done a great job in picking Yadi to be their support, with Hannah on vocals and Chris on drums it takes no time at all for the crowd to become hyped (even if the first beat of the drum did scare the life out of me). With an Algerian heritage, Yadi have a Mediterranean feel with the all the edge of a Londoner, linking then nicely onto the headline act.
A fellow Londoner and at 20 years old Charlotte Aitchinson makes up Charli XCX, and she's certainly brought in a younger crowd tonight, making me feel like I'm in an episode of Skins… but this is a plus, not only is the bar empty, but usually smaller gigs take a while to get energised, but not this crowd, this crowd is relentless as soon as the bass line hits! Being the third live date after London and Glasgow it's with no surprise both Yadi and Aitchinson compliment the Mancunian crowd, once again our 'Madchester' name is ringing true.
Opening with 'You're The One' Aitchinson is a modern day electro – pop star, think Marina and the Diamonds with a Robyn vibe. The stage presence and charisma makes her seem older than she is with a lot of swear words in there for good measure.
She performs songs from the 2013 album True Romance, a collection of sugary sweet bubblegum tracks with hard hitting lyrics. 'Cloud Aura' a song featuring Brooke Candy is an impressive song to catch live, even though Candy is absent and therefore Aitchinson takes over the rapping duties, and very well I must admit. The song is reminiscent of a Gwen Stefani and Eve collaboration from way back in 2001.
The stand out track of the night is 'I Love It' a song Aitchinson created with Icona Pop. The song reached 14 million views on YouTube and is getting bigger by the day, largely due to the HBO show 'Girls' and even I have to admit that's how I know the song! If you've seen the hit show 'Girls' then you'll know what I'm on about, if you don't … YouTube it, you won't regret it!
Having no one with me tonight this is the first gig I've attended solo, being undoubtedly nervous I am put to rest when Yadi and Aitchinson perform, they have a 'Girl Power' attitude which rubs off on me, making it one of the better gigs, sorry friends if you're reading this but it's true, everyone should put on their bucket list 'attend a gig solo'.
One thing I don't understand about this gig is… How is Charlie XCX not a bigger name yet? Aitchinson creates pop songs that are technically better than 90% of the pop you hear in the charts these days. Watching both Aitchinson and Yadi at the Deaf Institute feels strange, there's an exclusivity feel about it, it's how I felt watching Everything Everything play Islington Mill and that was only because it was a special one off gig to mail subscribers! My advice to you would be to catch her and Yadi play live before they blow up and start to play larger arenas at larger arena prices!