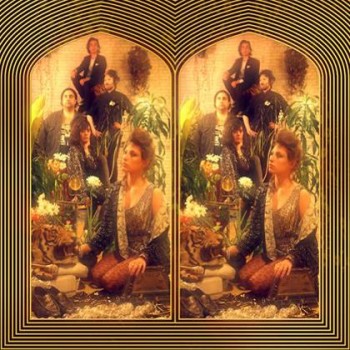 After blazing out of Bushwick in 2011 with the two buzz-worthy singles, "I'm His Girl" and "Friend Crush", a reputation for turning live gigs into spontaneous DIY parties (and vice versa), and a bio built to withstand the most cynical indie-blog cred-vetting – Brooklyn's Friends will release their debut album Manifest!, June 4th on Lucky Number.
Produced by the band – singer Samantha Urbani; multi-instrumentalists Lesley Hann, Matthew Molnar, and Nikki Shapiro; and drummer Oliver Duncan –its twelve tracks were recorded between last summer and this spring with engineer Daniel Schlett at Strange Weather studios in Brooklyn.
Full track-listing and more details are forthcoming but, for now, as a further provocative taster we are delighted to present the anthemic "Mind Control", which is to be the band's next single and the album's climax.
Mixed by Paul Epworth, it sums up the seditious streak of Manifest!  The musical choices are brazen even by Friends' standards: superfly bass, slinky synth, crybaby wah, bongo solo, group chants.  Lyrically, it also might be the Friends manifesto, were it not for the strong possibility that Ms. Urbani is taking the piss.
"I don't want to rule or be ruled/I just want the right to be cool/However I chose to do what I do/Wherever I choose to be or with whom/Hey, I don't need your money, I can grown my own food/I don't need your beauty standard, I can be my own dude."
With "Mind Control" already anointed the Hottest Record in the World by the Zane Lowe show on Radio 1, the band's Spring tour close to selling out and more shows to come in the Summer, Friends look set to make the rest of the year theirs alone.
UPCOMING LIVE DATES
May
5 – Live at Leeds, Leeds
6 – Digital, Newcastle
7 – King Tut's, Glasgow
8 – Academy 3, Manchester
9 – Scala, London
10 – The Great Escape, Brighton
11 – The Great Escape, Brighton
12 – Academy 2, Birmingham
14 – Thekla, Bristol