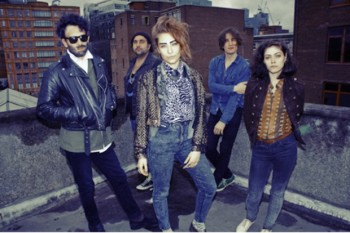 You'd be forgiven for thinking that Summer isn't going to happen this year but with their debut LP "Manifest!", released June 4th on Lucky Number, Brooklyn five piece Friends, have still delivered the soundtrack regardless. Oozing effortless cool and sexy insouciance, full to bursting with instantly infectious songs and singer Samantha Urbani's subversive lyrics, it has gathered critical acclaim from The NME, The Fly, Sunday Times Style, The Guardian and way beyond.
Now, Friends are coming full circle and re-releasing their signature track – the slinky, swaggering siren call of "I'm His Girl". It still sounds brilliantly fresh – kicking off with Lesley Hann's instantly recognisable bass-line gymnastics, solely accompanied by floor tom and cowbell, before Urbani croons the already immortal line, "If you see me walking around with him/ I'm not just another chick, I'm, His, Girl".  It's an absolutely electrifying moment, and one that has lost none of its potency in the intervening months. The single now also comes backed with amazing remixes from the legendary Arthur Baker and the rapidly ascendant AlunaGeorge.
Arthur Baker adds his trademark analogue synths and drum machine loops and subtly introduces the vocal hook-line before stretching out the rest of the track. Baker knows how your feet and ears work more than even you do, and this is New York music through and through. Whilst AlunaGeorge's addition of effortlessly sultry urban cool, combining a dash of sub, and salsa-spiced steel drums with the original's 'bass-line of the year' turn it into an anthem for any carnival or festival.
Finally, following a rousing and sold out headline show at the Scala, Friends will be returning to play a special one-off show at the 100 Club with Santigold and Best Coast, as well as a slew of festival dates throughout the summer. Full dates are below.
TRACKLISTING
1.    I'm His Girl
2.    My Boo
3.    I'm His Girl (AlunaGeorge mix)
4.    I'm His Girl (Arthur Baker mix)
UPCOMING DATES
August
7 – 100 Club, London
18 – Summer Sundae Festival, Leicester
19 – Greenman Festival, Wales
24 – Reading Festival, Reading
25 – Leeds Festival, Leeds
31 – Underage Festival, London
September
1-2 – Jersey Festival
9 – Bestival, Isle of Wight