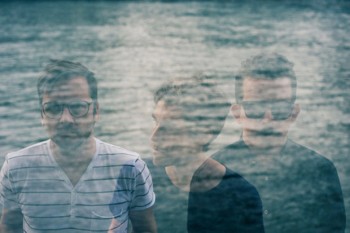 Bear in Heaven are officially back in business and ready to hit the road with their new album, I Love You, It's Cool out now on Dead Oceans/Hometapes).
'I Love You, It's Cool' will be available 4 different packages that include a limited edition t-shirt, a thumb drive containing 2 hours of the drone stream as heard on BearInHeaven.com and even a 2TB drive featuring the entire drone itself which, quite possibly,  qualifies as the longest commercially available recording ever released.
Most people assume that when a band makes it—that is, reaches a critical mass of listeners, where shows across the country get packed, where the big festivals come calling, where placement on year-end lists seems pre-emptively settled—the work stops. It's as if all the hours spent writing and rehearsing, tacking flyers to utility poles or maintaining forever-multiplying social media platforms suddenly switch off as some vaunted rock-star lifestyle switches on. And in some cases, maybe it does; then again, Bear in Heaven's never been about easy expectations of normalcy.
After the release of their second album, 2010's Beast Rest Forth Mouth, big things began to happen for the Brooklyn trio of Jon Philpot, Joe Stickney and Adam Wills, from the aforementioned accolades to an electrifying collection of remixes featuring some of electronic music's heaviest hitters, like The Field and Studio. As if in a transatlantic dream, they even split a single with Norway's Lindstrøm and Christabelle, who covered their calling card, "Lovesick Teenagers." But Bear in Heaven didn't settle for the new well of notoriety they'd opened. Rather, they played some 200 shows in support of Beast Rest Forth Mouth—touring the world, playing progressively bigger rooms, building an intricate stage show that turned an album of songs into a synesthetic experience. When it was over, they retrenched in Brooklyn and, during the dead of summer, retreated to a chilly practice space to work harder than they'd ever worked on any other project. They wrote, re-wrote, arranged, re-arranged, spending days or weeks building one song at a time. After months of testing their limits and trusting their instincts, Bear in Heaven emerged with I Love You, It's Cool, an album so vivid and visionary that it meets and even exceeds the confidence and calm its title suggests.
For years, Bear in Heaven existed as a nights-and-weekends band, the sort of project that was more of a casual hobby than a career path for a few Southern natives who'd been living in the city for years. As such, they associated more with New York's experimental vanguards, whether playing at the late, great Tonic or touring as a backbone for composer Rhys Chatham. But in 2010, Beast Rest Forth Mouth delighted listeners with the unexpected—futuristic rock music that didn't sound alien or bound to ostracize. Taking these songs from coast to coast and continent to continent, they learned that having fun with this music was copacetic, that they could delight a crowd while defying musical binaries. I Love You, It's Cool turns that realization into a peerless set of instant anthems.
"You come off of a tour, and you have ideas of what you found yourself enjoy playing over the last years," says Wills. "It felt good when people would dance. We tried to turn that into a record, to emphasize that. But there's still an absolute need to take the pop song and ruin it."
Indeed, some of these songs are ready for the floor. On "Sinful Nature," a perfect, tiny guitar theme spirals through colossal drums and slabs of synthesizers, suggesting perpetual motion. "Cool Light" booms with bliss, icy keyboards reflecting off of a relentless throb. It's inescapable.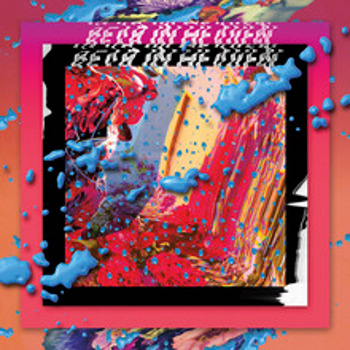 But the intricacy and edge of Bear in Heaven's music is not only here but sharper and more sophisticated than ever before. Philpot's programming is both complex and compelling, whether in the refracted rainbows he warps on "Kiss Me Crazy" or the noisy matrix he weaves across "Space Remains." Certainly, "The Reflection of You" feels like a hit, with a hook that instantly catches and a bridge that curls its finger—lyrically, stylistically, temptingly—toward the dance floor. Philpot's mix of nostalgia and need is immediately relatable, too, bringing the band's exploratory sounds a little closer back to home. But the song exits in a moment space-rock ascendance, a readymade rock-club banger that erupts into a bold new direction.
I Love You, It's Cool is the first time Bear in Heaven has sounded so unapologetic and so evolved, so risky and so redeeming, so focused and so finessed. After years of restless exploration, this feels like a definitive arrival. I Love You, It's Cool is music written in the present tense but ready to speak to the future. The work is its own rarified reward.
"We are a functioning band. We can work full-time on a record. We're all focused on this one thing that we're going to make, with no sidestepping," says Philpot. "Making this record has been one of the best times of my life."
Bear In Heaven in the UK
16-May    UK           London   Hoxton
17-May    UK           Brighton                 Green Door Store
18-May    UK           Liverpool                Liverpool Sound City
19-May    UK           Glasgow Stag & Dagger
20-May    UK           Manchester             Soup Kitchen
22-May    UK           Leeds      Brudenell Social Club
23-May    UK           Bristol     Louisiana