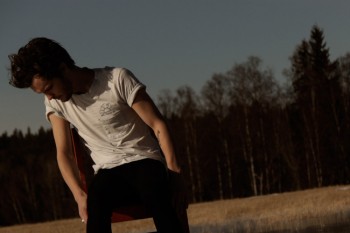 The Tallest Man On Earth (aka Kristian Matsson) has unveiled the first track from his forthcoming new album 'There's No Leaving Now'.
A 29-year-old songwriter from Dalarna, Sweden, Matsson spent the winter months of late 2011 and early 2012 in his home studio in Dalarna, recording this, his third full-length album. Like with his previous work, 'There's No Leaving Now' is at turns stark and haunting, joyous, wry or reverent, with Matsson's wordplay and deft guitar work front and center.
The first recordings from The Tallest Man on Earth surfaced in 2006 via a self-titled EP released on the Swedish independent label Gravitation. Matsson followed this EP with his 2008 full-length, 'Shallow Grave', an album that drew accolades from the likes of Pitchfork. In early 2010, Matsson signed with U.S.-based label Dead Oceans and released his second album 'The Wild Hunt' and its follow-up EP 'Sometimes the Blues is Just A Passing Bird'. Through tours and word of mouth The Tallest Man on Earth began winning over audiences, taking the stage alone with his acoustic guitar and captivating the crowds night after night.
As Matsson's following has grown in fervor and size, he has made the rounds of international festivals like Coachella, Green Man, and Roskilde, appeared on the BBC's Later with Jools Holland, and sold out London's Shepherd's Bush Empire.
The Tallest Man on Earth will be touring in 2012 in support of 'There's No Leaving Now', with shows in London, Stockholm, Amsterdam, Berlin and New York, and festival appearances including a headlining slot at Green Man Festival (Far Out Stage) and an appearance at Hop Farm.
'There's No Leaving Now' track list:
1. To Just Grow Away
2. Revelation Blues
3. Leading Me Now
4. 1904
5. Bright Lanterns
6. There's No Leaving Now
7. Wind & Walls
8. Little Brother
9. Criminals
10. On Every Page
 'There's No Leaving Now' is due to be released on June 11th on the Dead Oceans label.