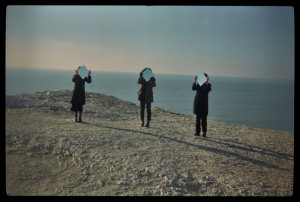 – ST. PHILIPS CHURCH, SALFORD –
Where better to see a prog goth band than in a church? The interior of St. Philips may be too well kept to be the perfect backdrop for tonight, some of Salford's industrial abandoned and rain soaked buildings could offer Esben and The Witch possible music video locations, but would lack the acoustics.
The venue is half full as I arrive, support act Polinski works hard with his laptop and sampler while all face the altar. His sound is occasionally trance, reminding me of super club Gatecrasher, 10 years back. And it's occasionally Four Tet-like with gentle xylophone moments and music box melodies… and occasionally 65 Days Of Static: raucous. The small wooden chairs prevent dancing and enthusiastic shouts of "tuuune!", this may well be more suited to a Warehouse Project night.
Esben and The Witch have drawn a mixed crowd, 30-somethings listen with arms crossed and goth kids, all in black, nervously hang around in the aisles. The Brighton trio start with 'Arygyria', the pounding booming bass shaking the wooden foundations and screeching banshee wails, almost like feedback, prompt the people at the very back to put their fingers in their ears.
The build up is slow with moaning and groaning followed by thrashing guitar with tribal beats from a loan drum in centre stage, which they share. It's like The Cure on the soundtrack for The Crow, with the singer from Jefferson Airplane… Beach House after experimenting with a Ouija board.
'Marching Song' follows, their most instantly accessible tune and a highlight for me. The vocals would combine well with early material from Tricky, the beat is steady, like a deep heartbeat. Military drums and the sound of lost souls gather before a deafening silence. If the church candles had been lit they would've gone out at this moment.
Spooky, crackly samples introduce tunes, reminiscent of Portishead and possibly sampled from Hammer Horror. Everyone is attentive, their opinions locked away internally as they sip at their pints of Sleepy Night ale from plastic cups. The mood is subdued and gauging the crowd's opinion is difficult. Any movement on stage involves manic drumming while head banging in the minimal spotlights that are fixed and pointed upwards.
8 tracks in total from the album 'Violet Cries' flow together, the lack of a regular drummer makes you wonder where each tune is going to next. A few listens are required to familiarise, but I'm interested enough to give it a chance. 7" 'Lucia, at the precipice' also features, sounding a little more optimistic and light.
Rachel announces the last song 'Eumenides'. What sounds like a metal grinder pierces our ears once more before an abrupt end and soothing antidote provided by her voice, ahead of a rhythmical energetic dance beat and chants build to an inspiring and passionate crescendo.