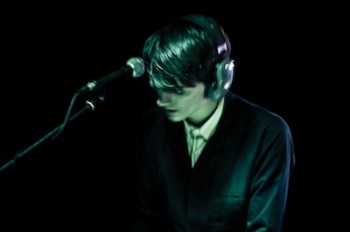 – NIGHT & DAY CAFE, MANCHESTER –
There's nothing worse than when a really original, great band call it a day. But when certain members decide  to come back with a new band, it's always wonderful. The band in question were Grammatics, an indie rock outfit from Leeds who just wrote melodic and dramatic pop songs, the certain member in question is an incredibly talented chap called Owen Brinley. I heard whispers that Owen was going to start work on a new project at one of Grammatics farewell shows, so when he released the first fruits of the bewildering electronica tones of Department M early last year, I got somewhat excited.
Tonight we're at Night and Day cafe for the first Department M show in a while and it seems no one quite  has that Friday feeling and most of the crowd sit down, politely clapping between tunes. I must admit it annoys me slightly that the crowd are this way but then again with Department M's sound being a darker and more complex one, I can understand this isn't music to sink pints and crowd surf too, it's music to get lost to, so I'm just hoping everyone is just being as hypnotised as I am by the sounds and textures blaring from the stage. The set tonight is made up of songs from their excellent and recently released mini album, with a new song chucked in for good measure which sounds like a more shiny poppier sound is the order of the day for new material. But there is no denying the the industrial pop grooves of previous single 'I'll Fax You An Apology' and 'Miscellany' which is all fuzzy bass lines and sharp synth stabs.
Owen is a really captivating frontman, mainly because he has the voice of an angel as he stares out into the crowd with an angelic look which lends to some of the lush, romanticised soundscapes of songs like 'Absentia' and 'J-Hop'. He later spends most of the song walking around the stage, ending on the bass bins crooning '"If I could keep you closer….". Most of the crowd swoon.
It's a difficult sound to pull off live I think, but Department M pull it of well. Owen strikes me a guy who really pushes the boundaries in the music he makes and with his backing band playing with a much skill and conviction as he is, I think Department M just might be the project to make Owen Brinley the cult hero he should be.
Department M  Official | Facebook | Twitter | Soundcloud