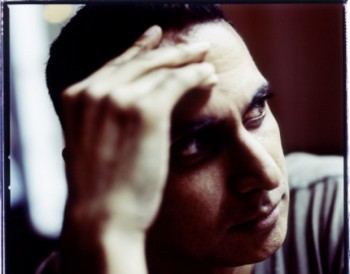 – BAND ON THE WALL, MANCHESTER –
Band on the Wall are playing host to a pretty special night. Tonight is close to the 10 year mark of the original Aftershock event that began in Manchester during the Commonwealth games. Aftershock represents a collaborative smorgasbord of musical talent, with the sense someone shook up the genres, threw the hat in the air and ran round to catch a mixed match of artists. Nitin's at the helm as artistic director (with nearly 2 decades experience we're with trusted ears) and there's a sense he collected the musos like souvenirs on his touring travels. Aftershock has been to Melbourne, Marseilles and Genoa, and received with critical acclaim. The musicians get together with less than 2 weeks' rehearsals before the event. It's not as ramshackle as it sounds as Nitin chooses the cream of the jazz, electronica and world music crop.
The stage tonight looks packed out with 8 performers raring to go. First thoughts might mislead us into a fairly self absorbed muso jam sesh. One of the first people I get chatting to is an Aftershock informer- I'm being shown the who's who on the stage from Matt Halsall an accomplished trumpet player to a very petit singer with a strong grip on the samplers, Nico. It's a sure sign we're in for a good night when musicians are in the crowd.
Any worries about 15 minute jazz jam interludes are quickly dispelled. Each song is well crafted and just works really succinctly and moves the atmosphere at an interesting pace. It is a surprise to think most of the Aftershock ensemble have only met a couple of weeks ago, as we're watching pretty polished performances. Totting up the people on stage there's about 8. With such a breadth of skills and accomplished playing in their own genres, the night's success relies on them finding their common ground rather than going off on an ego boast.
Having said that one performer who is really shining is Arun Ghosh. An acclaimed clarinetist according to the biogs who 'was conceived in Calcutta, bred in Bolton and matured in Manchester.' I've never really loved clarinet, but wait 'til you see this chap play. Giddy, jazzy, lots of other words with double letters in 'em… it's all over the place but in a good way and the crowd are feeding off it big time.
There's a fair chunk of new material and some Sawhney classics. The stand out song of the night is the blistering Summer tune 'I Am The Black Gold Of The Sun' (go listen to it right now, you'll feel happy!) It might go against the informal, spontaneous nature of Aftershock, but it would be great to see a follow up album of all this gathered talent. Tonight's whetted my appetite for more.