I like "wonky". I like "folk". Man, truth be told, I even like "pop". So Hannah Peel's description of her style as Wonky Folk Pop right away pitches her 100% centre-stage on my radar. Hannah's star is definitely on the rise, with reviewers blanketing pretty much everything she turns her hand to with praise (and that includes Rebox, her EP of reworkings of eighties classics via the medium of the music box). A low key support slot I caught last year revealed an extraordinary talent backed up with some cast iron tunes. It was indeed folky, poppy and very definitely – and in the nicest possible way – wonky. Assorted music press heavyweights – and, er, The Sun – are starting to turn their heads in Hannah's direction and collaborations with the likes of Nitin Sawhney and Tunng (whose Mike Lindsay produces here) are either under her belt or on the way. Like I say, a star on the rise.
Opening track, 'The Almond Tree', almost serves as a manifesto for the rest of the album. The folk quotient is immediately present and correct – lilting melodies and lyrics about a murderous deer (and you can never have enough songs about murderous deer). It's swiftly joined by a wonky, off-kilter rhythm. And the whole thing is deftly wrapped up in Hannah Peel's velvet vocals and inch perfect harmonies, a deliciously dissonant guitar break providing a neat counterpoint. 'You Call This Your Home' could well be the album's key calling card, all fragile melodies, delicately plucked strings and rolling toms.  The album's moment of pure gold, though, comes with 'Song For The Sea'. A longing for escape over a mournfully lovely piano break, it's an absolutely, exquisitely original three and a half minutes.
'Today Is Not So Far Away' initially sounds deceptively like Hannah Peel is singing out of time with the percussion. Give it a minute though; the song builds and builds as bass notes, backing vocals and brass weave together, making perfect, perfect sense. 'Don't Kiss The Broken One' breezes in on a stately violin riff (can you have a violin riff?), Peel once again taking liberties with the laws of musical metre in the verses, each one culminating in a chorus that, in less cultured hands, might have ended up being cloyingly epic. But a running theme throughout the album is one of elegant restraint. There isn't a wasted note, an extraneous instrument, a wayward backing vocal anywhere to be found.
The appropriately named 'Solitude' is another vignette of low key drama, more mournful piano and precisely placed guitar cameos. And as the album wends its way to an end, Hannah breaks out the music box on the traditional Irish folk song 'Caitlin Deas Cruite Na Mbo' (just to break the ambience, it translates as 'Pretty Girl Milking a Cow'…), but rather than evoking pretty images of revolving ballerinas, it lends an eerie edge to the song. The music box is spun backwards on closer 'The Parting Glass', a final haunting goodbye to a genuinely beautiful thirty five minutes.
Let's fast forward a few months. The Broken Wave bears all the hallmarks of that album that always gets the slightly-left-of-centre nod from the Mercury Music Prize judges. It could easily be that album this year, and, man, it'd take a strong, strong record to beat it. What price 2011: Year of Wonky Folk Pop?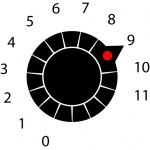 Release Date 10/01/2011 (Static Caravan)