– ISLINGTON MILL, SALFORD –
By going through these doors, we agree to let ourselves be filmed for a commercial. I was under the impression that this gig would be a little shy on punters tonight, so the scenes inside the mill come as a complete surprise. Breton's debut album 'Other People's Problems' was released through Fatcat Records on Monday. They came to my attention through hype following a popular support slot with Tom Vek at The Ruby Lounge last summer, and after regular championing by North West based Amazing Radio DJ Shell Zenner. Competitions to win tickets normally means that buyers are in short supply, and I heard the support acts had dropped out… but there's a large film crew readying their gear in the corridor.
Knowing that Breton like to make visuals as well as sounds draw me to the conclusion that the cameramen are collecting images to accompany the headline set that is to follow. I'm wrong. Hoya Hoya's Jonny Dub provides the soundtrack to these shenanigans, with his usual brand of heavy beat and bass based party starters. I think someone is filming my feet… the place is rammed, everyone in here looks really young and trendy and good looking and fashion conscious… we must be in the wrong room.
The barmaid doesn't want any money for our beers. If we're in the wrong place, then maybe we'll just see how long we can get away with it. The DJ set starts to get a little more mainstream (possibly under instruction); Michael Jackson, The Prodigy and even Craig David each hang around for a minute or so, before being spliced seamlessly into a different tune that you wouldn't think possible. Men in large earphones with microphones tell the bar to stop serving free booze (just before we can order another) as state-of-the-art TV camera's start sweeping around the venue, chasing Hollyoak's stars and carefully selected extra's who have finely sculpted hair and a total lack of inhibition. Time to get some fresh air.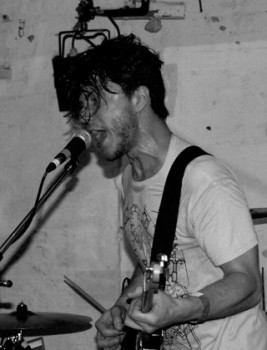 This goes on until 10.30pm. I just want to see the band! Most of the fame seekers have left the building, leaving bewilderment in their wake. All of that, for a company that makes boots.
If they'd have had any sense at all, they would've ditched the soap stars and just filmed the gig instead. London based Breton understandably express their annoyance at the going's on and consider that possibly not that many people in Manchester are aware of their work. Those who are still present have every reason to feel smug. To put it mildly, their performance was superb.
Lead singer Roman Rappak draws most of the attention with an energetic and animated display. His voice reminds me of Yannis from Foals, crossed with Scroobius Pip. Their self made films are projected on the whitewashed crumbling back wall, occasionally illuminating the drummer and other band members. 'Ordnance Survey' (not on the album) sets a precedent for all that is to come. A danceable beat lies under a deep funky baseline, with an array of interesting synth sounds and high-pitched guitar picking. The stomping kick drum of 'Pacemaker' adds body to the dark but beautiful strings samples. 'Interference' raises the pace further with its infectious chorus. 'Edward The Confessor' starts like a Prodigy classic, mixing rattling breakbeats with a prodding synthesized attack on the senses.
'Electrician' exposes the perfect quality of the sound in this basement venue. The keys provide a bright and twisted cathedral organ wall of sound, dazzling onlookers into taking a break from head-nodding, to stand back in amazement. 'The Commission' is too slow to make the setlist tonight, with the emphasis made on maintaining a frantic atmosphere. It worked. Recording the album in Sigur Ros's studio in Iceland sounds like a pretty chilled out arrangement. The resulting product, however, is anything but.
An encore has been well earned, and the reward for the applause is 'Episodes'. It's a strong finish to a bizarre evening, rounding off a performance that was a huge improvement to a slightly subdued and disappointing support slot for Ghostpoet at The Deaf Institute last Autumn. Buy Breton's superb album, instead of the boots.