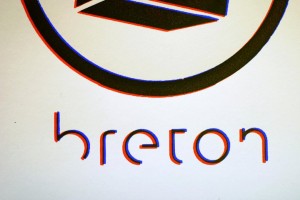 – THE RUBY LOUNGE, MANCHESTER –
After 5 Long years the wait is over, Tom Vek returns to the stage to launch his second album 'Leisure Seizure'.  Upon entering the Ruby Lounge I am greeted by a sense of anticipation and excitement for tonight's sold out show, so  as the venue slowly fills to capacity I make sure I get a good spot early.
'We Have Sound' was the critically acclaimed debut album from Tom Vek and I think the question on most people's lips is, are we going to witness the much loved songs that got us all acquainted to him, such as 'Nothing But Breen Lights' and 'I Ain't Saying My Goodbyes', I certainly hope so.
First up and sole support are a band called Breton recently sign to FatCat Records, the label that discovered Sigur Ros, Animal Collective and No age and I am naturally curious and excited for what could be in store. A shy-looking four piece take to the stage which looks rather cramped with equipment and get the night underway.
The set opens with some atmospherically ghostly guitar as each member takes up their individual place on the stage. Surprisingly out of nowhere a barrage of sound hits your ears as heavy hitting drums and a very, very nice sounding bass or should I say two bass' fill the room. I see people edge closer towards the stage inquisitively.  The first song has a funky feel which resembles The Rapture for a moment with its funky rhythm and beat box grooves.
This band grows on you, especially with the varying array of different sound of each song. Angular guitar lines bounce into the space opened up by half-step drum beats, glockenspiel chimes accompany deep waves of sub-bass and vocal harmonies weave between muscular synth riff, the band members switch from instrument to instrument throughout the set and it's good to see a band experimenting with their music rather than sticking to a genre or formula they have found.  They continue to impress, one track especially (sorry I don't know the name) with an eerie melody and darker undertones throughout.  As they come to a close I am left wanting more.  I urge you to listen to them if you can and I recently learnt there latest limited edition EP 'Sharing Notes' has a DIY synth to be assembled by listener, how cool is that.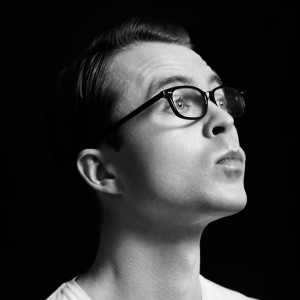 Onto the main act, the stage is set, the lights dim and Tom Vek enters to the stage to a great roar from the crowd.  Two screens show a live (effect filled) feed from set cameras positioned around the stage of each member.  With no words spoken the band kick off proceedings with 'C-C', to the delight of the crowd. This is what I have waited for and I have the feeling we are in for a treat.
Excitement spreads through the venue as people start singing along and instantly start dancing.  Vek looks kind of nervous and unsettled for now. It may have been five years, but from where I'm standing there is no need for him to be so, as it sounds spot on.  Second song is 'World of Doubt' and is very reminiscent of Beck with its sadistic guitar riff and a definite crowd pleaser.
A few old and new songs in and it appears that he has settled down and started to enjoy himself, he doesn't say much apart from "thanks" between songs, but his constant smiling and minimal dancing shows a lot as he responds to the crowd more and more.
The highlight for me and which got one of the loudest cheers of the night is 'Nothing But Green Lights', almost a Vek anthem. It gets the whole crowd singing every word and a small group of people doing the hand bopping dance out of Eminem's 8 mile video.
Two thirds of the way through and with all the older tunes played it is left to his new tracks to impress, and for me they mostly do with 'A Chore' the latest single standing out' I have to say I don't think the new material carries as much charisma as the first album as a whole, but still very much enjoyable.
'A.P.O.L.O.G.Y' closes the set with its immensely catchy chorus that you just can't help sing along to.  Tom Vek and band leave hastily with no encore which would be nice. It is good have him back after so long and hopefully we will see more of him in the future.