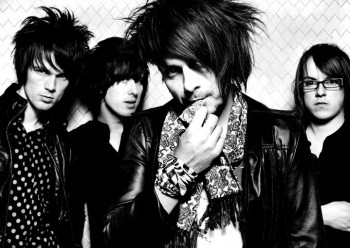 – THE NIGHT & DAY CAFE, MANCHESTER –
In the reliably low-lit surroundings of Night & Day Café there is always the chance of seeing something special, even on a washed-out Thursday evening of the kind that levels all hope spring might, just might, be arriving. This was one such occasion, with any thoughts of the habitual weather swept away the moment The Screening powered up their punchy set.
Meeting all objectives when it comes to incisive riffs, tight harmonies and memorable choruses, these four lads from Leicester know how to make an impact. It is too early to say if they have achieved the impossible of being sing-along without superficiality, but they certainly left their mark on Manchester.
Confident and yet avoiding self-satisfaction, Tom Nurse (lead vocals/rhythm guitar), Tom Lewitt (lead guitar/ backing vocals), James Dunn (bass) and Owen Ross (drums) pull together elements of punk, indie and pop to create The Screening's vibrant sound. Channelling a raw energy that commands attention, songs such as 'Ten Green Bottles', 'Diem' and 'Tell Me Emily' are prime for radio playlists. There was a change of pace with the wistful 'Through My Telescope', a spiritual cousin of The Fratellis' 'Whistle for the Choir'. While less urgent than everything else on offer, it demonstrated the wider capabilities of The Screening as a unit.
The past two years have seen the quartet's stature grow, with U.S. as well as U.K. tours and the feature of 'Fall to Pieces' in the Jean-Claude Van Damme vehicle The Shepherd: Border Control under their belts. Any vocalist with the chutzpah to spin off 'She sells seashells on the seashore' for a lyrical kick can't be short of self-belief. Indeed, The Screening's attitude and revolutionary imagery is positively akin to Leicester's other famous swagger-merchants (it goes without saying that Kasabian's Tom Meighan has professed his admiration).
Whether to achieve an air of detachment or through a simple desire to deliver there was little in the way of inter-song banter, but Nurse and Hewitt's enthusiastic guitar work (and harmonies, of course) did the talking. For those present in a perhaps disappointingly thin crowd the set had genuine flair, managing to appeal to both the disco-punk and indie anthem-lovers respectively.
The Screening are clearly a band to look out for in the coming months, and if this was anything to go by, great things no doubt lie on the horizon.