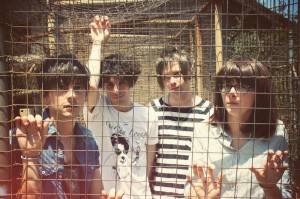 – SOUND CONTROL, MANCHESTER –
Honing guitar fuzz and bright-eyed lyrics into hooky, melodic songs, The Answering Machine are a band that Manchester can be proud of. Having quietly helped restore indie pop's good name with cuts such as 'Obviously Cold', 'Animals' and the title track of new album 'Lifeline', tonight's rescheduled gig had gained must-see status. Reflecting this, people arrive in numbers early. Doing so proves fortunate, however, as support acts The Kill Van Kulls and Let's Buy Happiness are more than worth the effort. Compliments must also go to Sound Control's superb lighting system, which further enhances the live experience at this compact, but acoustically excellent venue.
On taking to the stage, The Answering Machine frontman Martin Colclough swiftly sets the tone, leaving behind his guitar playing duties to get up close to the crowd. Initially holding back some of their best-known material, the youthful five-piece give themselves plenty of space to present 'Lifeline'. Their second long-player features an increased use of synth and percussion, successfully broadening their sound while retaining the charm and verve revealed in debut album 'Another City, Another Sorry'. A thrashy 'Oh, Christina' is quickly followed by '3 Miles', 'Animals', a bouncing 'Lightbulbs' and atmospheric 'Anything Anything'. B-side, 'The Hold Up', even makes an appearance, much to the delight of those gathered at the front of the stage.
'The End' sees Gemma Evans handing over her bass to Colclough and sharing lead vocals in a conversation-style song about a relationship break-up. This track is unlike anything included in the rest of the set, but demonstrates the band's willingness to push their sonic boundaries. Powering into 'It's Over! It's Over! It's Over!', with its Flaming Lips-style harmonies, a crowd that had already been singing along with gusto really begins to move. Maintaining the electricity level, 'Obviously Cold' and 'Lifeline' are equally inspiring. Closing with a well-received encore of early single 'Oklahoma', those at the front get one last chance to jump along enthusiastically, their night ending on a high.
Arriving off the back of an appearance at Austin, Texas's SXSW Festival, The Answering Machine could have been excused for being a little low on energy. But on the evening of their first UK show of the year, their dynamic performance ensures no apologies are necessary — and then some. Too good to be undermined by mega-label madness, it is to their credit that they continue to play first and foremost for their fans. Long may this continue.