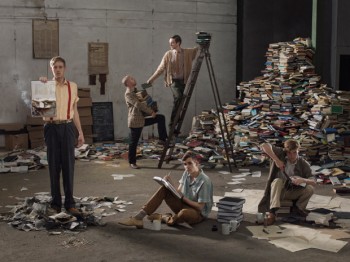 Following their triumphant European tour last October and the success of their sold-out single 'A Stutter and a Start', Oxford's SPRING OFFENSIVE now return to the limelight with their brand new anthem of dissatisfaction, 'Worry Fill My Heart'.
Vocalist Lucas Whitworth explains, "It's a reaction to that feeling of impotence when confronted with a difficult choice. So many of our friends, family and people we meet are stuck in this terrible position – we keep being told that we're lucky to have a job, as unemployment soars, but we still need an outlet to escape the monotony, to stop our lives from stagnating and becoming grey. So we sing, or we go to gigs, or we do whatever we need to just to feel engaged."
'Worry Fill My Heart' is accompanied by the more tender B-side 'Carrier'- which when performed live regularly stuns audiences through its jaw-dropping a cappella rendition, performed right in the middle of the crowd. The physical CD release also boasts an exclusive track entitled 'Ridgefield' and a remix from WILDSWIM. The four songs are joined by more artwork and an exclusive poster, all packaged together with a bespoke envelope addressed with the buyer's very own name on it.
SPRING OFFENSIVE have also announced a series of live shows both in the UK and Europe:
29.03 Electricity Showrooms – London
30.03 The Green Door Store – Brighton
31.03 Secret Location – Oxford
01.04 The Castle Hotel – Manchester
02.04 Soyo – Sheffield
03.04 The Head Of Steam – Newcastle
04.04 The Shipping Forecast – Liverpool
05.04 Gwdihw – Cardiff
10.04 Schon Schoen – Mainz
11.04 Muz – Nuremberg
12.04 Haell – Heidelberg
13.04 Parterre – Basel