I really couldn't believe it when I saw that PSB were playing at a little known venue in Bromley Cross just outside Bolton. The Railway is located on the main line between Manchester and Blackburn.
The last time Bolton saw anything of this kind was 1990, when baggie Manchester band The Charlatans played a dive of a snooker club in the town centre shortly after their first single release 'Indian Rope'. I think we payed £3 that night and I have only ever met one other person who remembers it.
I know tonight's venue and it has always been a place to have a quick pint while waiting for the train into Manchester and for the past few years a place to watch rock bands and high end tribute acts, with such delights as Fink Ployd, Bon Giovi and Genes(ish). But hey, it's walking distance from my place so I won't complain, and at £6 in tonight it is certainly a midweek bargain.
I could tell when the train had pulled up across the road, as the pub quickly fills up with a very mixed crowd. They vary from people who look like they have stumbled in by accident looking for a real ale pub, to the chap who runs my local chippy along with his daughter.
My brother quickly informs me that he had heard about PSB last year through a Bolton Wanderer's fanzine website. Strange combinations for sure. But then again that shows the bands wide ranging appeal.
Having heard their last two single releases on the wireless, I searched them out online and quickly discovered that this is music set to film. As the name suggests they are set to old news reels our grandparents might have gone to watch in the cinema, and also a couple of classic movies. These boys either have a 'reel' interest in history or have found a rich vein of accessible film. I suspect they have probably gone through more than most would to secure the rights to use this footage. A real labour of love.
How could this possibly be translated to a live venue I was thinking, but with the opening beats of the set, it all very quickly falls into place. With a projected backdrop and an old TV front of stage, the visuals fit perfectly and cut seamlessly with the pops and beats of the drums and guitar.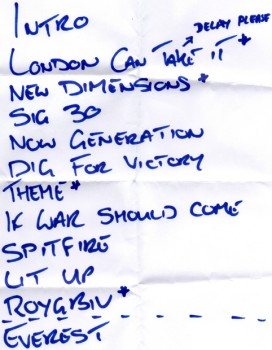 The band consists of Wrigglesworth on drums and J Willgoose Esq on everything else, synth, guitar, banjo and laptop, and also a very fetching bow tie.
The set starts off well with a punchy intro, they head straight into the second track from their War Room EP 'London Can Take It', 'New Dimensions' (available free on their website) and then the lead single 'Sig 30' from their as yet unreleased new album.
The tracks are interspersed with Mr. Chumley-Warner style vocal samples to interact with the audience, afterall, they don't have a mic.
They quickly rattle through their set of inspirational named tracks, including 'Dig For Victory', 'If War Should Come' and 'Spitfire', which is set to footage from The First of the Few, a film which documents the struggle RJ Mitchell went through designing and building the Spitfire plane which would eventually help our troops secure victory in Europe. They finish their set with their first release 'ROYGBIV' and then their last single 'Everest'.
So the venue starts to empty and the band stand around and chat to an appreciative audience. Who is that I see chatting with J Willgoose Esq, none other than our esteemed editor Mr Poole. No doubt securing an interview for their next Manchester gig at Sound Control on the 14th May.
They will definitely have increased their fan base by then with the release of their debut album Inform -Educate-Entertain. All of which they most definitely did tonight.
Get your tickets before they are even hotter.
Official | Facebook | Twitter | Soundcloud | Youtube
——-
Below is the full length 1hr 53min acapella version of Spitfire, AKA The First Of The Few