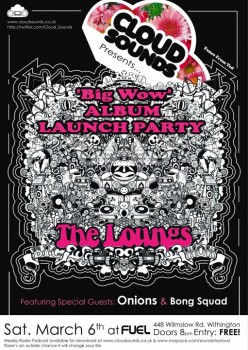 – FUEL CAFE, MANCHESTER –
Tonight is a night for celebration; this, after all, is not just the anniversary of the popular, delightfully unpretentious Cloud Sounds Presents, it is also the launch party of The Loungs new album, a chance to see what the Onions have been hiding away for, and début performance of The Bong Squad.
Generally, if you enjoy Cloud Sounds' shows, you will love his gig nights. His dictatorial method of band selection means he only brings us the best of unsigned music. The Loungs and Onions are firm favourites, but The Bong Squad are brand new and when they admit to only having practised once before it becomes clear just how big a risk Ted is taking.
Considering their name, it is hardly surprising when they stop seconds after they start to seek out missing band member, Bluey, who has gone for a beer and a cig. Once everyone is back together, however, they do warm us up quite nicely. They play some sweet little songs which surprise the audience with sudden break outs where they lay down some pretty heavy rock beats. They're well received, especially by those who look like they rolled up on a Harley Davidson.
Onions, who have been hibernating this winter, have not been spending their time idly. Rumour has it they are at work on a new album, and if the tunes they play tonight are anything to go by it is going to be one hell of a hit maker. There is a great deal of enthusiasm in their act, and like the snowdrops and daffodils which are pushing through the frozen earth outside, the Onions belt out a breath of spring air to the sleepy eyed crowd.
'Word Of Mouth', which is seemingly a song about a town's monument, has some cheeky little suggestive lyrics which leave the crowd with a knowing smile, particularly when the lead singer growls out the great line, "Word of mouth, she goes all the way down."
They're are a hard act to follow, but this is the night of The Loungs. They have marketed their album artfully by using four very persuasive good fun girls who pester the crowd to buy Big Wow. The night may have started slowly, but by the time they begin the place is packed and everyone is looking forwards to a good old shake down. They play a brilliant mix of old and new tracks and from the new album, '12 Hands' and 'Annie Hall' going down particularly well.
The lead singer plays keyboard, and although they seem a little nervous, they are pouring their heart into this gig. Their efforts are appreciated; people climb on tables to get a better look and sofas are bounced on as people bop about to the tight harmonies.
Even when The Loungs play the quite cruelly titled, 'I'm Going To Take Your Girl Away From You', all the men in the crowd just carry on smiling with no awareness of the girl by their side who is smiling coyly in the direction of the band.
In an uncharacteristic display of enthusiasm, Cloud Sounds badgers them into playing a double encore with the full support of the audience. Apparently Cloud Sounds has lost his soundman for future nights but based on tonight, Ted still has a special talent for finding bands that are so original that they render comparisons impossible and unnecessary.