Following last summer's critically acclaimed debut album 'Contour Lines', Manchester's electro dark-pop duo Claire Brentnall and Richard Knox look to maintain the momentum with 4 new tracks.
They're like a collaboration between Kate Bush at her most melancholy, singing over a minimal version of Massive Attack's Mezzanine, or Forest Swords. Much like Lamb's work, Richard provides an unpredictable twisted and ethereal soundscape, while Claire adds lightness and beauty, with a dark edge.
'Splinter' begins with trademark eerie synth sounds that focus your attention and set the scene. We are then beckoned into a room at the end of the hall by the sound of a simple, deliberate, addictive melody, being played on a grand piano in a sparse, echoey room. Claire's crystal clear voice cuts through the dream sequence, offering a lucid, reassuring narrative "… everyday I'm afraid to make the same mistakes, but everyday I do." It fades to almost nothing, but returns with a sharper piano sound, accompanied by a gentle heartbeat beat.
'Silver' follows, which is characteristically darker and more twisted, using off-notes at the start to create a sense of uncertainty and mystery. Again, the beat disappears and we're left with plenty of room to allow our imaginations to explore the space provided by the lack of instruments. It morphs organically into a deep trip-hop beat with layered, hard to distinguish vocals – a spooky scale played on an accordion passes by and then the tune stops, leaving you none the wiser.
'Age of Ice' opens with an optimistic piano chord and promises to be more coherent than it's predecessor, coming closest to emulating the contents of 'Contour Lines'. Claire is at her most Kate Bush, here – it's pretty much just her and the piano for over 5 minutes of pure escapism and this, for me, is the highlight.
Richard's oriental percussion and wind instruments lead the way in 'Monument', with Claire's voice adding confusion this time, as they continue to explore the formula within their nominal roles, and self-inflicted boundaries.
As with Jon Hopkins 'Asleep Versions' EP, which followed 'Immunity', Shield Patterns seem to have afforded themselves the time to express their very quiet side, stripping it all back further than maybe they were prepared to on their debut album. The resulting work is a pleasure to sit back and melt in to. Your attention is withheld masterfully, despite daring, lengthened periods where there's barely any distinguishable tune at all – this is due to the sheer quality of Claire's voice, Richard's emotive piano playing, and just a few choice synth sounds.
There are subtle changes from their previous release, but more noticeably, these tracks are given more time to breathe and there's even less reliance on catchy hooks and riffs. I had wished my favourites from 'Contour Lines' would've lasted a little longer, and hopefully their next album will be something of an amalgamation of the two experiences.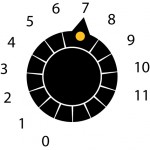 Release Date 09/03/2015 (Gizeh Records)