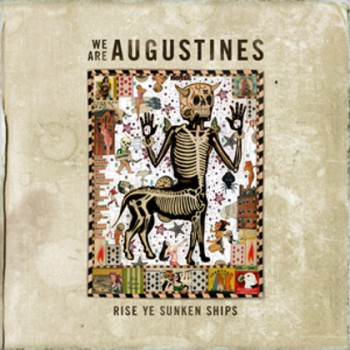 We Are Augustines release their much anticipated debut album 'Rise Ye Sunken Ships' today via their own label, Oxcart Records and celebrate this by giving away a free MP3 of their wonderful album track 'Augustine' from http://weareaugustines.com/free/
The Brooklyn 3-piece enjoyed playing their debut US TV show performance on the David Letterman show in NYC, which can be seen below.
Made up of singer/guitarist Billy McCarthy, Eric Sanderson on bass/keys and drummer, Rob Allen, We Are Augustines have warmed the hearts and souls of the UK so far with their sublime live shows featuring many of their heartfelt anthems from the album that received the 'iTunes Alternative Album of the Year' award in the US at the end of 2011.
"It's quite gratifying to be where we are now," says Billy McCarthy, reflecting on the past two years, which has seen them rise from the ashes of Pela to garner a new, equally fervent following with We Are Augustines – something which, on the back of previous setbacks, looked in danger of being drowned at birth.
Much of the material on aptly named album Rise Ye Sunken Ships – most of which was written and recorded when Pela still existed – documents perhaps the most traumatic period of Billy McCarthy's life. After losing his mother at 19, in 2009, McCarthy's younger brother James, diagnosed schizophrenic, hung himself while still in the apparent care of the hospital that was supposed to be treating him. Having been songwriting for only a couple of years following the death of his mother, initial forays into compositional catharsis fell short but by the time of James's death, a virtually obsessive McCarthy had assimilated his understanding of the world with the nuances of his craft.
"There were years of my life that just blend into each other, because all I cared about was writing, it was just pure dedication. When you believe in your art – whether you're a writer or musician or whatever – you're essentially believing in yourself. I never put that together until recently."
With Sanderson having shared very similar personal traumas to McCarthy – particularly his own family history of substance abuse – it's small wonder the pair are so reciprocal.
"The timeline to where we're at now, we don't feel robbed or any remorse," says Sanderson. "We try every day to focus on the immediate circumstances and seeing the bigger picture. As hard as it is when things aren't going well for you, it's important to recognise that's just part of the puzzle."
And as navigation and momentum remain essential to their survival, We Are Augustines are steering a course by way of a chart speckled with the fragments of shattered dreams and guiding lights long extinguished. Not the easiest of paths to traverse, but then plain sailing was never their command. With Rise Ye Sunken Ships, momentum is about to bring some lost treasures brimming triumphantly to the surface.