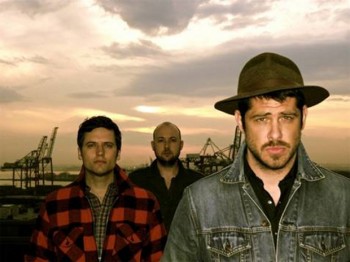 Following the success of their sold out dates on this month's UK and European tour, Brooklyn's We Are Augustines have released footage from the 'making of' their current video for 'Juarez' released as a single via Oxcart Records.
The stand out track on the critically acclaimed album 'Rise Ye Sunken Ships', 'Juarez' is a song written about the Mexican town that exists on the southern border of the United States that has been destroyed by rising levels of escalating violence created by local drug wars leaving more than 80,000 young people unemployed and over 100,000 lost jobs due to closed businesses.
The band spent time there in February this year to shoot the 'Juarez' video with video director Matt Amato, driving the dusty roads of the city heights and taking in the stories of the local community.
We Are Augustines' singer Billy McCarthy discusses how 'Juarez' was written: "I badly cut my left hand in Chicago during the recording of the album and received 70 stitches and some heavy painkillers. I played the initial chords with my cut hand high on pills and wrote this song in about an hour. If you listen to the intro, verses and chorus you can hear that the song is all composed and played by only two fingers. Those fingers where poking out of my bandages and probably have something to do with the tone of all of this. The song has an agricultural backdrop along the border in Juarez and it is there that this story takes place."
This epic track is released on 7" vinyl with a previously unreleased cover version of the beautiful Los Lobos track 'Saint Behind The Glass' as the b-side. 'Rise Ye Sunken Ships' is out now.
We Are Augustines will play the following festival performances in July with more to be announced soon:
7th July – T in the Park Festival, Kinross, Scotland
15th July – Latitude Festival, Southwold