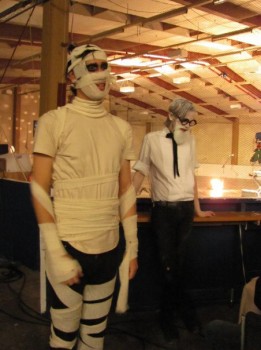 – THE DEAF INSTITUTE, MANCHESTER –
So it's a Saturday night, I'm heading towards the Deaf Institute, the bars are filling up and leading up to a yet another busy weekend evening. Having only recently discovered this band I am quite excited to see them and if the music is anything to go by, their live performance should be full of energy. Making my way in to the venue I am greeted with a bar full of punters, I grab myself a beer and make my way upstairs towards the music that is beckoning, through the doors I go and to my surprise the venue is absolutely deserted. What's going on? Am I early?
The only support band make their way to the stage soon after my entrance and I soon realise that there is just no one here. A few people emerge and make there way to the middle of the floor. Anyway I tell myself this is not going to spoil the night and there is a good show to come.
Hyacinth Girl start off the proceedings, a local duo that consist of a bassist and a drummer/keyboardist, their sound is a mix of Joy Division and Pixies style bass riffs. The drummer then cleverly plays the keyboard whilst drumming to create some very catchy hooks that get you humming and tapping along. I definitely recommend you visit their Myspace page, the songs you will hear are from when they were a trio and they're very different to what they are now, but I still urge you to visit their site, then go along to see them live.
I really expected a few more people may have arrived by the end of the support slot, but sadly that's not the case, which I am slightly confused by. As So So Modern set up, there is a certain tension in the room as I think everyone is obviously disappointed with the turnout and as for the band, this must feel awful.
The band take to the stage and not much is said to the meagre crowd, an awkward silence ensues as the band gets ready to play their first song. As soon as they start all that awkwardness disappears because, "WOW" this is going to be good, "Where are you Manchester?"
I would compare So So Modern to the likes of loops and synths-obsessed Canadians Holy Fuck, and American synth/beat heroes Battles with shouty punk style vocals. This band have songs that swallow up a range of different influences and create something totally new, energetic and powerful. One minute I am treated to electronic dance before they changed into math rock beasts.
They showcase a lot of new material from their latest album 'Crude Futures' released on the 15th of Feb and these songs were clearly created to be played live. This resonates with the sparse crowd as they now have our full attention and everyone has made there way ever closer to the stage. I admire So So Modern as I could imagine if only one person showed up, they would still put on a show, as they obviously just enjoy playing music together.
This band have my vote and I feel that they deserve to be playing to much bigger crowds, as they do in their native country of New Zealand. If you gave this band six months to let the album get heard I think the Deaf Institute would have been a different place tonight, packed with the usual vibrant and energetic crowd I have become accustomed to. If they decide to return to Manchester I would urge anyone to go see them.