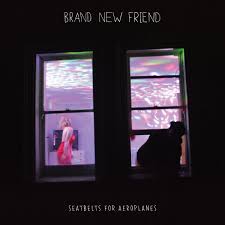 There are so many bands coming out of Ireland currently, with Fontaines D.C and Inhaler is there room for another Indie band out of Ireland? Brand New Friend is here with their new EP, ready to answer that question.
The four-piece from Belfast made up of frontman Taylor Johnson along with his sister Lauren along with bassist Aaron Milligan and drummer Luke Harris have already made a name for themselves by supporting the likes of Snow Patrol on tour.
This new EP from the band titled 'A Cure For Living' is twenty minutes of incredible indie-pop that deserves to be heard. The first few songs on the EP starting with the opening 'She always comes up smiling', already seems like the perfect song for festivals with its poppy guitars and anthemic chorus.
This rolls into 'The Letter A', 'Stop the Days' and 'The Karma Party', all of which form the most energetic part of the album where you can feel euphoric nature of the band emerge and hits you with more energy than a black coffee first thing in the morning. Although these tracks do have a great sense of pace, lyrically there could be some improvement, especially on 'The Letter A' where lyrics such as "Oh we're on fire and the world's on fire" don't exactly set the world alight (pardon the pun).
There is a welcome change of pace in the latter songs on the EP where you appreciate the band taking their foot off the accelerator slightly to show you some more of the sights. Tracks such as 'Nothing Stays The Same' slows things down with an echoey, acoustic opening and then turns into a guitar-driven tune. This is followed by a great one-minute acoustic track 'You can't know everything, I don't know anything', which allows for Johnson's vocals to shine.
This EP might not be a cure for living, but it sure provides a nice respite.
Brand New Friend – A Cure For Living: Out 14th February 2020 (Xtra Mile Recordings)