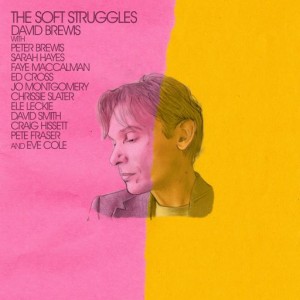 David Brewis is fond of a good concept. In recent years, he has created the Trump-based School of Language '45' album and Field Music's 'Making A New World' album consisting of songs based on his research for shows at the Imperial War Museum about tangential discoveries emerging from World War I. With the debut album under his own name, 'The Soft Struggles', the approach is inspired by the mythology of the house bands at Motown or Stax being given the chords, lyrics and having a brief chat about tempo prior to recording live without myriad overdubs. The sound leans toward Colin Blunstone's luxurious, weightless 'One Year' and Van Morrison's 'Astral Weeks' (although fortunately without Morrison's Marmite voice and personality).
Even though 'The Soft Struggles' is billed as a solo record, it feels democratic in that all the musicians involved make standout contributions. Sarah Hayes (of You Tell Me and Admiral Fallow) provides flute which weaves sublime patterns around the string quartet on 'Surface Noise' and piano that wraps around Brewis's double bass on 'It Takes A Long Time'. Faye MacCalman adds sombre tenor sax to 'Shall We Put It In The Diary' and lugubrious clarinet to 'It Takes A Long Time'. Eve Cole takes vocal duties on 'When You First Meet' and the clarity of her voice perfectly conveys clutching at romantic wisdom. Throughout, Field Music's resident string quartet collaborators (Ed Cross, Jo Montgomery, Chrissie Slater and Ele Leckie) are magnificent and the interplay between the musicians is thrilling.
The lyrical theme that connects the songs are the minutiae of life's minor trials. 'Shall We Put It In The Diary?' sees Brewis scheduling a meeting over coffee and cake while aiming to "tone down the high-mindedness", the cocktail jazz piano introduction and lush strings giving an immediate sense of the immaculate brew percolating. To jazzy guitar chords and a bossa nova groove, 'Tomorrow' ploughs ahead using the knowledge that problems will eventually pass ("in a year or two, this particular routine will be a vague memory"). 'It Takes A Long Time' chivvies itself along, trying to resist the urge to procrastinate ("in a year's time, you'll be glad you didn't leave it till later"). 'Start Over' is a gorgeous song about muddling through despite physical and emotional exhaustion ("I do not have the strength / To carry on / But you button your shirt / And you brush up the crumbs / And go"), Brewis is in especially fine neo-crooning voice and the string quartet bursts in as if from a studio-era Hollywood romantic musical. Accompanied by double bass, brushed drum shuffle, piano, moody sax and swelling strings, 'High Time' reflects on failing to live up to your own impossibly high expectations. 
As with 'No King No Princess' on Field Music's 'Open Here', Brewis reflects on parenthood and captures the small struggles of his own children. To a bossa nova rhythm, 'Keeping Up With Jessica' pays tributes to his daughter's sensational tales of her imaginary friends while 'The King of Growing Up' frets over his similarities with his son ("it's okay to be unsure… it's not weakness to defer until you know that you know more… I'm not the king of growing up/ I'm just reciting my mistakes…hope that you make fewer of the same") as classical Spanish style guitar and trombones come to the fore.
With its marching band stride to Peter Brewis's drums and the swing of dual trombones from David Smith and Craig Hissett, 'The Last Day' is the album's outlier and has sceptical tales of the final day at school ("Shirt-signing, fake farewells / People I've never spoken to / And won't when I see them next").
While 'The Soft Struggles' does not have the insistently memorable funk grooves of Field Music favourites like 'Disappointed' or 'Count It Up', it offers a collection of tunes that initially appear wispy but quickly reveal a lush, timeless quality.
David Brewis: The Soft Struggles – 24th February 2023 (Daylight Saving Records)