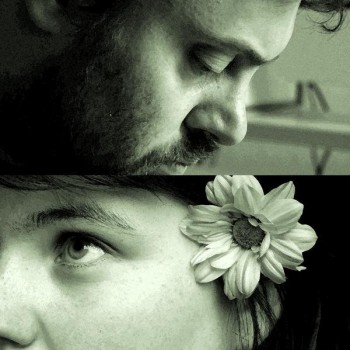 Sometimes, the anticipation surrounding a gig can build up an expectation that, sadly, isn't met on the night. However, this also works the other way around – something that was proved to your humble writer last month upon diving into a snowed-in arthouse cinema in Cumbria for a quiet beer.
On stage was April Maybe May, a boy-girl duo hailing from Barrow-in-Furness, who, despite being robbed of their audience by the heavy snow, played out their hearts to the handful of people in the room.
After their impressive set, speckled by impressions of the sea, travelling, melancholy love songs and all things rural, a chat with this hidden gem of a band seemed to be the logical next step
Despite the duo, which comprises of Rosie Hillman and Matt Kassell, looking like a quiet, homely pair, the two are no strangers to wandering further afield for their art.
To make their debut self-titled album, they turned to sunnier climes than their native Cumbria. "We decided we wanted some peace and quiet and no distractions while we wrote the music," explains Rosie.
"So we packed a guitar, a keyboard, a laptop and our swimming costumes and headed to Greece for the summer. And as soon as we got there and got warm and relaxed, the songs started flowing out."
It seems that a regular getaway is good for the stomach as well as creative perspective. "Matt's grandfather was Italian and Matt has relatives in Turin, so we go there often to see them. The city is beautiful, the food is amazing, the coffee is superb…aah!"
Being in a band isn't all about the jet-set lifestyle, however.
"We've also been in the recording studio working on our current project, the soundtrack to an independent film called The Bell Pool."
Far from seeming daunted by the task of writing a film soundtrack so early on in their career, April Maybe May found that the only way to tackle it was to get stuck in.
According to Matt, "it's just been trial and error for us so far. The director/writer gave us the script and a bit of a brief for what he wanted and we just took it from there. He decided what he thought would fit and what wouldn't and we started to place songs in scenes where we thought they'd sound great."
A bit of a history lesson was in order to complete the task, continues Matt: "As the film is set in 1972, the music has to sound like it came from that year too."
"It was a great opportunity to delve back into the archives of music from that year and uncover some lost gems while we were doing our research."
Speaking of the past, the seeds of April Maybe May were first sown when Rosie and Matt met at a songwriter's group in their local area.
Although some musicians may have reservations about being able to 'teach' or explain the art of songwriting, Matt believes get-togethers can help to boost confidence and peoples' faith in their own abilities.
"It helps you see there are other people out there thinking like you, shutting themselves up in their bedrooms and furiously writing songs. It gives you an outlet, somewhere to audition your ideas to friends and colleagues before you unleash the songs into the outside world. It's also about meeting people – in music we've found that one of the most important things is the people you meet and the contacts you make. It can lead on to all sorts of exciting projects."
One of the earliest reviews April Maybe May received included the tag of 'the quietest band in the world', a badge that they are clearly happy to wear.
"We're rooting for all the quiet people out there. But it's not something we shout about."
Living in one of the most picturesque, rural parts of the country, April Maybe May's folky, ambient direction may not come as a surprise to first-time listeners.
In particular, Rosie points out, the sea is perhaps the most dominant outside presence in the band's tracks.
"We were brought up in a town where you can always smell the sea, where you're only ever ten minutes away from the beach and fresh air and open space and boats and seagulls. This has had a major impact on us creatively – the tide is always creeping into our songs. Not just lyrically either, a lot of our tracks seem to have a peaceful, tidal sway to them too."
"A band's environment has to have an influence on their sound. It's where they're from, what they see out of their window each day, what they smell and hear and taste as they go about their daily business. It's bound to permeate their music in some way."
Aside from atmospheric influences, the pair have their musical heroes like anyone else.
Rosie was "brought up listening to Neil Young and Jackson Browne", while Matt "was raised on The Beatles and Stevie Wonder".
"We love wonderful songwriters, people with integrity and a bit of magic." Matt adds. "People like Gemma Hayes, Laura Veirs, Jose Gonzalez, Iron and Wine, Beach House, Death Vessel. Artists who aren't mainstream-famous but are making a living from making music they believe in. That's what we're aiming for."
So, apart from themselves, who are the band's favourite girl-boy duo?
"Beach House. They're ace and we were lucky enough to see them play at Manchester Cathedral recently. Great songs, a unique sound, and really good, inventive musicians."
For those who are as yet unacquainted with April Maybe May, the duo recommend a listen to either 'Back To Me' or 'Home', as these tracks seem to have been the best-received by fans so far. Accompanying videos can be found here (www.myspace.com/aprilmaybemay).
In terms of standout tracks, "our favourites, though, are yet to be released," Rosie believes. "The new songs we've written – even newer than the film songs – are something we're very excited about."
When it comes to playing live, a band with such a fragile and delicate sound has to be thoughtful about venues, according to Matt, reflecting on why a lot of their appearances of late have been in and around Cumbria.
"Our live shows are usually just the two of us playing stripped-down versions of our recordings and as such, it's important that we play in the right venues, somewhere people will listen and allow the intricacies of the music to be heard."
But for anyone hoping to get to a live gig and allow themselves to be seduced by the band's mesmeric tracks, April Maybe May are set to wander from their usual stomping ground in 2011.
"We will probably tour the UK in the summer – as we did last year – and we hope to play at Solfest and Kendal Calling. It would be good to play a festival that's new to us."
Finally, to sum their debut release up in one concise sentence – "listen to the April Maybe May album while you are …"
"….in need of a good calm down."