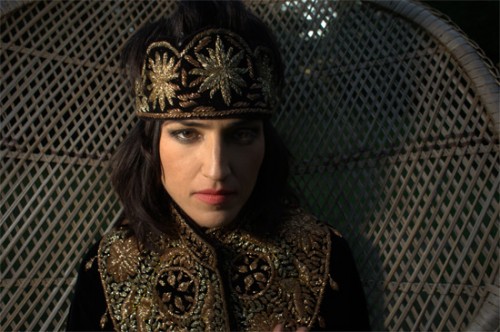 – SOUND CONTROL, MANCHESTER –
Joan Wasser arrives in Manchester tonight in support of her latest release 'The Deep Field,' a record that cements further her reputation as soul diva for the hipster generation.
She appears on stage like a vision, clad in a black leather jump suit accompanied by band members Tyler Wood and Parker Kindred.
Having rushed back from a performance on the Marc Riley show and now having to reassemble her equipment, Wasser multi tasks a sound check whilst getting to know her audience.
Contrary to the mysterious and sensuous persona on record, in person Wasser appears to be a down to earth and jovial character bravely attempting to parody Riley's Mancunian accent, rather unsuccessfully I should add.
When the music eventually starts up, the chemistry between the three piece is a joy to behold. The complex arrangements on record are refined slightly but are nevertheless executed to perfection. The delicate vocal harmonies of Wood and Kindred combine effortlessly, wrapping around Wasser's voice like a sensuous hug.
Wasser herself oozes sexuality, 'Hard White Wall' is introduced as a song she wrote in an airport 'whilst imagining she was fucking someone against the wall.' Her heavy breathing down the mic in-between songs does little to calm the situation, 'breathing is good for you,' she proclaims.
'Eternal Flame' from debut album 'Real Life' gets the audience grooving along. Pissed up middle age gig blokes sing along note for note releasing their inner woman in the process. After much audience screaming for 'Human Condition,' Wasser eventually grants them a solo rendition on keyboard.
The strength of her charisma is astounding, she appears fearless. It's captivating to watch and somewhat reminiscent of her former beau Jeff Buckley's ability to command an audience in an intimate way. The song appears to have more resonance in this stripped down format and makes one wonder if the Barry White esque version that appears on 'The Deep Field' was the right choice.
The only down point of the night is the omission of crowd favorites 'The Ride' and 'Christobel,' but tonight the battle to win the audience over was already won after the first five minutes.