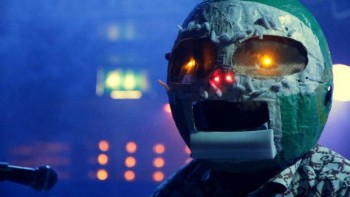 – THE CASTLE HOTEL, MANCHESTER –
We arrive a bit late to a full Castle and, lingering by the door, we hear music but can't figure out where it's coming from. The crowd seems to be collectively looking towards the floor to the left, and as we shuffle around trying to find a view-hole, Steve (my partner in crime for the evening ) decides to take the look-over-and-down angle, declaring on tip-toes that "he's wearing a disco crash helmet!" Shuffling some more, I call out (maybe a little too loudly) "I can see!", at which point a nice man lets me in front of him. And what a sight it is! Surrounded by what could be described as musical appliances, Paddy Steer proves that a man can multi-task as he sings, presses many buttons and drums simultaneously.
We can't believe one man can juggle so many objects and yet create such a cohesive sound. It's pretty interesting to watch, and the music isn't half bad either. People are bopping. Steer's amusingly potty-mouthed, spoken interludes reveal a local accent, and we're made to feel like we're his mates down the pub. Steve suggests that Steer is reminiscent of Thomas Truax (who we saw back in September in this very place – can't recommend enough).
Paddy Steer performs in his socks, and packs up in a delightful red and blue woolly hat. We're wondering how all this is going to fit with a female singing harp player. As it turns out the singing harp player isn't your stereotypical harpist. Serafina Steer (no relation to Paddy) comes armed with beat-playing multi-instrumentalist Kristian Robinson. And a clementine, yes a clementine. We are glad that Serafina clears that up because earlier we had a conversation something like: "Is that an apple?" "Nah, it's just a light." "It's a bid oddly shaped to be a light." The lights make the clementine look bright red, kind of weird, but aesthetically pleasing.
My boyfriend Luca tells me pre-gig that Joanna Newsom has already done it… but so what? Lots of people have already done lots of things. It's a post-modern world. Plus, most people have never had the chance to see Joanna Newsom play live. There is something very entrancing about watching someone play the harp. It's a pretty amazing instrument, and to get the opportunity to see someone playing it up close surely can't be missed, and Steer plays it very nicely indeed. The vocal style recalls Bat for Lashes, and we're suitably impressed by the lyrics and rhyming.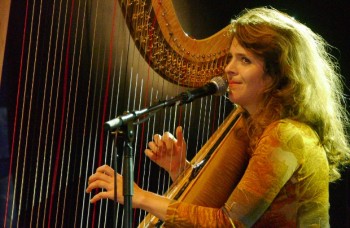 On account of her usual set-opener being a 30-minute number, Steer's second song of the evening, 'Night Before Mutiny', comes much earlier than usual. As a synthesised, wild-sea wind mysteriously sweeps into the Castle, we are aboard a ship where Serafina kisses the captain and is romantically involved with the cabin boy. Along with Steve's favourite song of the evening 'How to Haunt a House Party', another highlight is 'Alien Invasion', a quick-tempo'd tune that begins with giant swirls of harp. Steer die-hards amongst the crowd are treated to several songs that feature on her brand-new record, The Moths are Real, produced by Jarvis Cocker and released earlier in the week. One of these new ones is 'Ballad of Brick Lane', and Steer is told pre-song by an audience member that she is currently located on Manchester's equivalent. And so we are all amused, and perhaps mildly offended in some quarters, as Steer proceeds to sing in the song's first line of how she hates Brick Lane! Steer also seems to have a talent for perfect timing, singing the words "water flows" just as a few droplets descend from the Castle's high ceiling.
Finishing up the night's music is an encore 'Curses, Curses, Curses'. It was a toss-up between that and 'Tiger'. Then I decide on the spot that my new year's resolution should probably be to buy more records at gigs.  However, when we eventually get to the front of the queue to enquire about my would-be purchase, a man shouts "that record is mine" and it just so happens that it's the last one. New Year's resolutions are never kept anyway, right?  If sales of her new album at the Castle tonight are anything to go by, Steer's steering the ship in the right direction (sorry!)