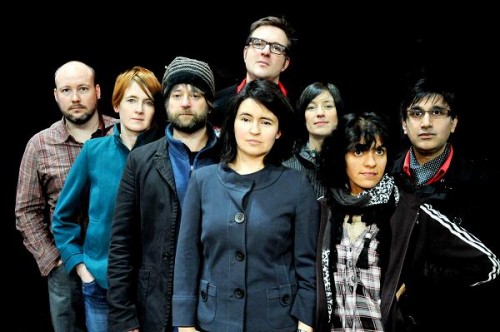 – CLUB ACADEMY, MANCHESTER –
The Raconteurs, Audioslave, the Good, the Bad and the Queen – supergroups are generally looked upon with a critical eye.
This is because listeners suspect, sometimes rightly, that the artists involved are stuck for cash, trying to sell something we've all seen before in different packaging. It's like being handed a bag of 'fun-sized' chocolate bars when you've tried them all before in large.
However, audiences need not concern themselves about this with the Burns Unit. This is because, although the eight-piece showcases some of the country's most accomplished artists, they are also used to being underrated and underpaid.
Therefore, the likelihood of their efforts being half-arsed and solely for cash are taken out of the equation.
Although Manchester's Club Academy is not full tonight, admiration and curiosity fills the blank spaces. The lineup, which includes Delgados founding member Emma Pollock, one-man album factory Kenny 'King Creosote' Anderson and award-winning folk chanteuse Karine Polwart, clearly enjoy their craft and have a formidable hoard of expertise.
As might be expected, there are some stunning vocals on offer from the Burns Unit in a live capacity. Kenny Anderson's lullaby tones feature heavily, as do Karine Polwart's, who, particularly during the gritty 'Blood, Ice and Ashes', reminds of the willowy Dolores O'Riordan.
Emma Pollock is slightly more low-key in the vocal arena, but her presence and talent is by no means muffled as she leads a lot of the guitar work, the between-song banter and the heartfelt thanks at the encore.
Though this feeling of cooperation is plain to hear among the group, who were thrown together by a project in 2006, the alteration in atmosphere generated by rapper and wordsmith MC Soom T is astounding.
You'd be forgiven for thinking that the minuscule tracksuit top-clad curly-haired singer was a laid-back roadie popping in and out to check the mic. However, she slips modestly onstage only to unleash streams of seemingly effortless but powerful vocals, transforming the peaceful, folky dynamic into something you might expect from M.I.A – political, charged, animated, breakneck. Tracks such as 'Send them Kids to War' and 'What Is Life?' sound infinitely more impressive in the flesh than any other format.
Illustrating the Burns Unit's' ability to bend to a vast range of styles, the band hold up and enhance MC Soom T's sounds unexpectedly well.
The eclectic sound their willingness to experiment yields keeps the audience firmly out of their comfort zones. Prime examples include Anderson and Polwart's unfinished day-old song, a weird circussy track woven with the storytelling of Nova Scotian Michael Johnston and the heartbreaking, fragile harmonics of 'Sorrys'.
If you need challenging, forward-looking, boundary-trouncing tracks this year, put yourself in experienced but sincere hands and get thee to the Burns Unit post-haste.
Website: http://www.theburnsunitband.com/