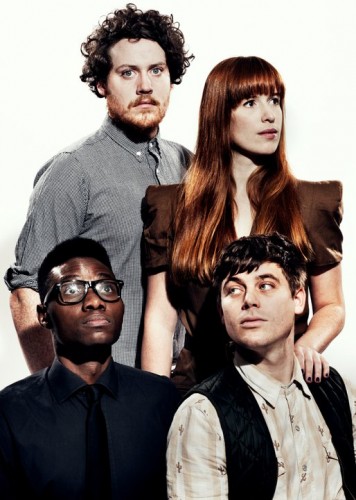 – THE DEAF INSTITUTE, MANCHESTER –
Tonight is the first night of Metronomy's tour and downstairs bar at The Deaf Institute is jam packed with people from an hour before the gig. Upstairs the first support act, Get People, are filled with good intentions. Their poppy tropical disco songs are full of drum fills that sound as if they have come directly from Friendly Fires' Jack Savidge drumsticks, but unfortunately, the dancefloor has yet to fill up and the energy they exude is wasted. But when Connan Mockasin hits the stage it seems everyone in the bar has sensed that something special is about to happen and upstairs at The Deaf Institute is soon so crammed, people are giving up the idea of drinking altogether.
If Johnny Cash is The Man In Black then Connan is most definitely The Man In Blue, with his sky coloured pastel suit and floppy blond locks giving him an air of Andy Warhol his husky vocals infiltrate your mind and make you feel like you are in a Hollywood indie flick. The New Zealander and his band draw the audience into their dream-like world with Pixiesque vibes and psychedelic grooves shown on songs 'Forever Dolphin Love' and 'Faking Jazz Together'. They finish up their support slot by leading the crowd in a chant of "Prophet! Prophet!" and Connan Mockasin have certainly gained some new followers tonight.
The constant changes in Metronomy could have garnered frontman Joseph Mount the kind of reputation of The Fall's Mark E Smith with him seeming the only constant in the electronic popdance outfit, but the current four piece line up they have retained for the past 2 years suits them well. They open with 'Love Is In The Line', it's dubstep vibes changing the mood from a daydream down-under to a beating pulsating dancefloor. Joseph asks for the lighting to be made a little bit "moodier" so their infamous chest-lights can be made best use of. A drum roll begins and the audience cheers as they recognise the beginning 'My Heart Rate Rapid'. Second album Nights Out is almost 3 years old now but having replaced the drum machine with a real life sticksmith, Anna Prior, the pounding beats could have been released last month. Bassists Gbenga Adelekan's soprano vocals on 'Raydio Ladio' give a new sense of urgency rather than the melancholic feeling that comes through on the studio album.
Viewing the fans from the mezzanine you could be forgiven from thinking you were at a The Wanted show with the first rows of the crowd made up of make-up caked 18 year olds, gazing longingly and adoringly at keyboardist, and occasional saxophone player Oscar Cash, but with cheers of "Huzzah!" cried at the demand for an encore, this demonstrates that Metronomy are not your archetypal pop band.