Charlotte Gainsbourg may very nearly share a surname with a hill-town in darkest Lincolnshire, but in fact she shares more in common with Jared Leto than arable land and sausages.
This is because she an actress (a good one, best actress at Cannes Film Festival 2009 anyone?) and also a musician. So not like Jared Leto then, but you get the idea.
IRM, her third studio album (what, you didn't know?) was produced by Beck, who Charlotte lured into her web with lots of bleeping noises and a drum machine with the word "experiment" written in tippex on the top.
Now, the other stuff you need to know about Charlotte is that she is Anglo-French, the daughter of an English singer/actor mother and a French singer/actor father, she was born in London and brought up in Paris.
Imagine my surprise then, when I found IRM to be packed full of twee, prissy, feminine tunes which all seemed to coo "I am the artisan you will never be!" at me.
While it's lovely that an actress has displayed the talent to not only crossover into music but into a niche musical genre, (take note Julliette Lewis) this is exactly how I expected it to sound.
It's Anglo-French, with her trained, prim English accent flitting snobbishly amongst the floral, minimal arrangement of instruments, and one song, sung in French, named, 'Le Chat du Café des Artistes', which is presumably like calling an English song, 'Apples and Pears for Gavin and Stacy'.
It's hip and groovy in the kind of way that if you walked into a modern art gallery and it was coming through the PA you'd assume that it was really good, but you'd actually just really like to leave because it was making you feel a bit nauseous.
Around the middle point are some sad, atmospheric numbers like 'Vanities', which drops the façade and manages to be an honest and enjoyable piece of music. But moments like this are few and far between.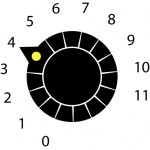 Release Date 25/01/2010