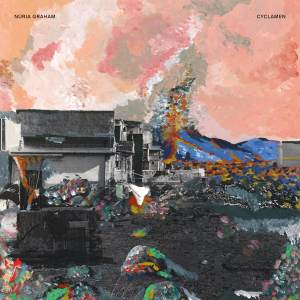 The new album from Irish/Catalan singer Nuria Graham, 'Cyclamen', is rich in imaginary fables, premonitions and a heightened awareness of nature together with beguiling musical arrangements that mark a huge progression from her earlier releases.  
'Procida' bookends the album. The opening snippet begins with the intriguing line, "back in Prussia", a harp plucked and plenty of echo, a tantalising start. The next two tracks introduce a couple of key characters, firstly 'The Catalyst', the engine that defines Graham's subconscious world. It has her "wanting to say goodbye properly with my stupid Catalan English" in remembrance of someone who is "floating inside me like a satellite". Based around a home recording of piano and percussion played on cardboard boxes before being embellished in the studio with harp, strings and bassoon, the song is about grief yet sounds beautiful and reassuring. Secondly, in 'Yes, It's Me The Goldfish!' which matches its jazzy chords, booming double bass and glorious wind instrument melody to a goldfish narrator swimming around their bowl, looking outwards to gauge the future before realising that all the answers they require can be found within. The song only uses four chords. The punk influenced version of me thinks, "what extravagance", while the older, hopefully wiser, counterpart thinks "how well-chosen and utilised they are".
Nature is the main character though, as indicated by many of the titles. "Bring me the power to not speak/ there is no truth that can't be swallowed/ I will press it to my lips", Graham croons on the torch song 'Poisonous Sunflower', accompanied mainly by piano with occasional intervention from double bass and a brief burst of strings. The ominous, minimal 'Birdman' has a muttered vocal warning that "soon the shit's gonna hit the fan" while 'Fire Mountain of Sacred Ancient Fountain', inspired by a visit to Naples and witnessing the beauty of Vesuvius, has classical guitar and a dreamy but troubling air before a dramatic pause and the revelation of "big explosions, particles".
Throughout the quality of the arrangements are magnificent. 'The Waterway' is especially exquisite, a forlorn reverie of immaculate construction throwing in unexpected harp embellishments at perfect moments. 'The Beginning of Things' pairs intricate classical guitar work to emotive violin while 'Gloria' toasts friendship with a gorgeous melody and a frisson to Graham's almost whispered voice. The creaky quality to the piano recording of 'Oh I Bless Thee' makes it sound like it has been dusted from the vaults which matches the archaic language in its title, the shrill tone of delicately used strings adds to the ghostly feel. 'Dust Bowl Dreamin' also has this dusty, woozy air. With its bluesy guitar, 'Disaster in Napoli' is the album's outlier, recalling PJ Harvey. The closing 'Procida II' returns to Prussia, as church bells ring and sounds of outdoor play drift in. 
A cyclamen is a genus of flower native to the Mediterranean basin, a perennial which flowers each year but is resilient enough to survive in the English climate. It is an apt title for an album that is subtle, varied, distinct and is indicative of a talent that should flourish for years.
Nuria Graham: Cyclamen – Out 20th January 2023 (New Deal/Primavera)