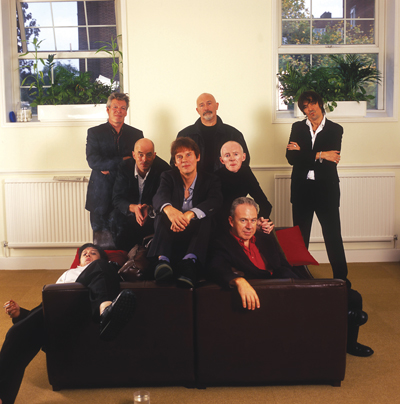 – THE APOLLO THEATRE, MANCHESTER –
There are not many rules surrounding Christmas songs but there are a few. Namely that Christmas songs (and we're talking Slade, Mariah Carey and stuff with sleigh bells basically – Low and Sufjan are a grey area) should not be played until, at most, one week before Christmas.
Until then an approximation of Christmas music can be found in artists with Christmas hits, though not by playing their actual Christmas hits. ie. The Beach Boys, Phil Spector's doo-wop popstrels (though not the Christmas album, obviously) and, of course, The Pogues. Ah yes, The Pogues.
Encompassing less the Christmas bonhomie, the thin-lipped pleasantries and the spirit of giving and more the opening the Christmas brandy before midday then aggressively rehashing a long-forgotten grudge with a rarely seen relative before vomiting after a little too much figgy pudding – if Phil Spector's Christmas album is a pleasing Christmas lunch, The Pogues are the drunken argument over who will do the washing up.
If you thought a Pogues gig compromised exclusively of boozed-up Irish men impassionately howling the lyrics of Dirty Old Town, well, you would be right. Ostensibly a farewell tour, this is soon put right with 'although we cannot actually promise this is our farewell tour, we can promise it is our first farewell tour…'.
The band are fittingly ramshackle, sprawled across the stage in battered suits, hanging off their vast array of mandolins, accordions and the like producing a mystifyingly tight sound. Shane MacGowan, he of the baffling constitution, is the only member of the band not spotlighted, most likely in order not to scare people standing at the front.
An exuberant run-through of The Hits – a discography made for a scarlet-faced sing-a-long. 'The Body Of An American' is every bit as boisterous as McNulty's wake (attention, The Wire fans), 'London Girl' is jaunty, poppy and buoyant, 'If I Should Fall From Grace With God' encompasses their punk sensibilities often overlooked and 'A Rainy Night In Soho' is swaying and melodic. The high point is obviously 'Sally MacLennane' – and truly you have not lived life until you have yelped along to Sally Mac Lennane.
'Fairytale of New York' is conspicuous by absent in the (first) encore, an annoyingly contrived conceit sitting at odds with the set, but all is forgotten when they get round to it in the second. Kirsty MacColl's ephemeral replacement trots on in a pretty society dress and has a lovely, warm, crystal clear voice. Bypassing the awkward entangled dance with Mr. MacGowan – it is a spirited, magical moment punctuated with festive pyrotechnics to a rapture of coos. That's your Christmas spirit right there.