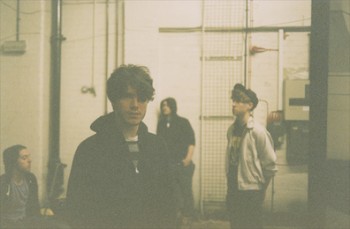 Fresh from an incredible performance in front of 3000 people at Transmusicales Festival last weekend, multimedia masterminds Breton announce their first UK headline shows. They will take place next March 2012 in support of their debut album 'Other People's Problems', which will be released on Fat Cat Records. Dates are as follows:
28th March – Corsica Studios, London
29th March – Islington Mill, Manchester
30th March – Nation Of Shopkeepers, Leeds
To celebrate this announcement the band have made available 'The Diamond Tiles Mix' that will feature two unreleased Breton tracks – 'The Hague' and 'Harp'.
Breton live is an intense, hypnotic experience as the band, shrouded in hoodies, perform to a backdrop of their self shot films and graphics – mixed in real time by their VJ in a synergy of sound, timing, rhythm and visuals. For this collective of film makers and musicians the mediums of visual and audio are utterly integrated and of equal importance.
This ideology will be highlighted when they perform at Videocrash at the Scala on 14th January 2012. This massive audio visual show will see Breton premier footage created specifically for the event by their cinematic wing BretonLABS, shown on the backdrop of a full cinema sized screen as they perform. The night will also feature the legendary production duo and AV masters Plaid and Holotronica, the latest project from the pioneering AV outfit Hexstatic.
TRACKLIST:
Breton – The Hague
Lil Wayne – 6ft 7ft
Jehst – Blue Bells
Twin Shadow – Castles in the Snow
JJ – Ecstasy
Phantogram – Don't Move
Moths – Blisters
Breton – Harp
Nas – NY State of Mind
SBTRK – Go Bang
Breton will return to France for a show at La Machine in Paris on 13th January 2012.
http://soundcloud.com/bretonlabs