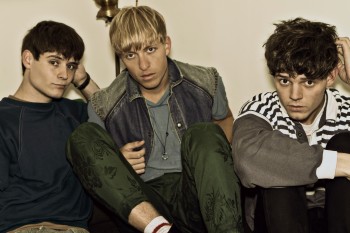 – THE RITZ, MANCHESTER –
So here I am at the Manchester Ritz and while I'm not a die hard fan, I'll confess right now to have a bit of a liking for The Drums and so as it turns out, there were a number of surprises in store.
It hit me immediately how much this band's shtick is influenced by The Smiths. Its there in the music but within 10 seconds I'd clocked it from frontman, Jonathan Pierce's swirling. A charismatic front man with compelling vocals, and quirky mesmerising movements he commands the stage throughout. The words 'British Influence' are marked through this band like a stick of rock and there's even a touch of The Communards Jimmy Somerville in Pierce's Tigger-ish enthusiasm.
Unfortunately the other surprise is that on this night at least, one mans gusto doesn't feel enough to carry the whole band and he could do with a bit more support from his compatriots. Pierce aside, there is virtually no palpable enthusiasm apart from a tiny hint of strutting from Myles Matheny (bass) later on in the gig. Jacob Graham (synth), Connor Hanwick (lead guitar) and Danny Lee Alle (drums) are all comatose. Whether this is due to this being the last gig of the tour I can't say. What I find equally odd is that there is absolutely no interactions between them at all, not even a glance, save for an odd, random lurch by Pierce embracing the head of Hanwick before the last track. I can only assume they've all had a massive argument and taken it on stage. As it stands it looks like some rich kid's dad has paid four unwilling musicians to let him live out his fantasy. And he does live it, imploring us early doors: "Let's have some fun tonightManchester".
All this means that even as they slide into number two selection and popular favourite, 'Best Friend', the crowd isn't particularly being whipped up into a frenzy. It seems like only a relatively small band of fanatics near the front are in Drum-based delirium. Next up is 'Me and the Moon' and while Pierce is in element, we're enjoying it, just not loving it.
By the time we get to recent hit 'Money' things have warmed up a little but for my money it's not until the next ditty that things finally start to pick up. Even so the rest of the show is still a little hit and miss, with the band having more enthusiasm for their newer stuff from their second album, Portamento, than the earlier gear. Indeed, by the time we reach song nine we get only the second big cheer of the night.
A fun gig but it felt underpowered – a bit of a let down. Nevertheless, everyone has bad days at work and so I still feel compelled to say that this is cracking band and if you haven't already, check out their stuff and grab a ticket next time their in town.