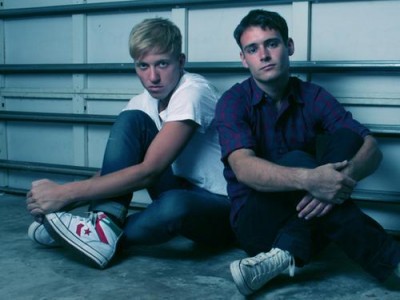 As the year draws to a close, The Drums continue to stay busy, wrapping up a mammoth year of touring with sold out shows at London's Shepherds Bush Empire and The Ritz in Manchester this past weekend in support of their new album Portamento.
In addition to touring and making music, the band have continued to pour their energy into their self-produced web series Visiomento, a companion piece to sophomore album Portamento. This week's episode, #17, finds The Drums' own Jacob Graham realizing a long time dream by conducting the first ever video interview with his favourite band The Wake.
The Wake are a British post punk /indie pop band, founded in Glasgow in 1981 by Gerard 'Caesar' McInulty (formerly of Altered Images), Steven Allen, Carolyn Allen, and Joe Donnelly, (later replaced by Bobby Gillespie of the Jesus and Mary Chain.) New Order manager Rob Gretton got the band signed to Factory Records in 1982, where they released several singles, toured with New Order, and released their seminal 1985 album Here Comes Everybody. In 1988, The Wake left Factory Records and signed to Bristol's legendary Sarah Records, releasing two singles and two LPs, the last being 1994's Tidal Wave of Hype. In autumn 2009, after 18 years, The Wake came together once again to record a new album, A Light Far Out, set for release in early 2012.
The Drums are also pleased to have collaborated with yet another extremely influential and legendary band, Add N to (X) on a remix of the latest Drums single How It Ended.  This is the first activity from the band since their split in 2003.
Add N to (X) were a three piece band, formed in London, with an affinity for analogue synthesizers, not unlike The Drums. Original band members included Andrew Aveling, Ann Shenton, and Barry 7 (who masterminded this remix.) They released 5 albums between 1996 and 2002 which were extremely instrumental to The Drums' Jonny Pierce who often cites the band as an influence.
The Drums will be back in the UK in 2012 when they will headline an NME Award Show at London's Roundhouse on February 27th with support from Spector. Full 2012 tour dates below.
February 26: Liverpool, Academy 2
February 27: London, Roundhouse (NME Awards Show)
February 28: Oxford, Academy 2
See Jacob's interview with The Wake here:
And get your free download of the Add N to (X) remix here: