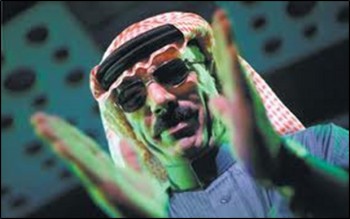 – THE DEAF INSTITUTE, MANCHESTER –
The UK has been treated this year to tours from the full roster of artists on the Sublime Frequencies label. Locally, Group Doueh visited Islington Mill back in May, last week Group Inerane stopped off in Leeds as part of their first European tour, and tonight Omar Souleyman is at The Deaf Institute. 
Sublime Frequencies is one of my favourite labels, putting out music, film and recordings of Asia, Africa, and the Middle East. They offer something unique to the majority of western listeners, but what sets them apart from other labels putting out non-western music is in how it is presented. There are no scholarly essays, background information, or sanitising of sounds with a Sublime Frequencies release. It is put out and you deal with it on your own terms and tours are presented in a similar way.  
This approach is largely borne out of the fact that label owner Alan Bishop is part of alt-music legends Sun City Girls, so Sublime Frequencies almost inevitably has a DIY-independent ethic. For me this makes sense, the artists on the label have a lot in common to many of their Western contemporaries working outside music's mainstream in terms of the alternative sounds they produce, although they have very different starting points. So it makes sense to me that, for example, Group Inerane toured with support from alt-improvisers the Flower-Corsano Duo; and that Bjork has worked with Omar Souleyman.
Looking at it this way, it is understandable why the crowd tonight is packed with young alternative types drawn in by a search for amazing sounds. Omar Souleyman's music clearly has parallels with other stuff in their record collections. Slightly naively therefore, I reckon from the perspective of Western audiences there doesn't seem to be much distinction in terms of where the music originates from or consideration of its wider cultural context, just that it offers something different and engaging.
Souleyman playing in Manchester has been an annual event for the last few years, so it is also understandable and well deserved that he has built up quite a live following which is in evidence tonight. The music is a mix of mawwal-style singing / mc-ing in Kurdish and Arabic by Souleyman, who works the crowd effortlessly. Part of his appeal must be his image, wearing sunglasses, thobe, and traditional headdress the kuffiyeh he looks amazing and properly owns the stage, one of those performers who you can't keep your eyes off.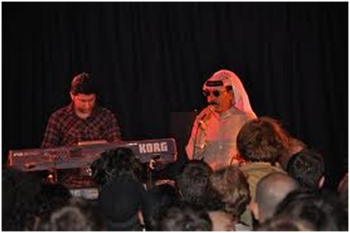 Once Hisham Mayet (also a label boss at Sublime Frequencies) has done his standard introduction (we all learn that Souleyman is from North-East Syria, from Jazira in the Hassekeh region, in a village called Ras al-Ayn), and Souleyman takes to the stage almost immediately he has a sea of out-stretched arms eager to shake his hand which brought to mind Morrissey-type levels of appreciation. Souleyman starts every song with a call, drawing out long vowels, and, once the music starts, twirls a string of beads known as a 'masbha' (like rosary beads) to get the crowd revved-up. He frequently spends his time simply clapping along, leading the music, but his singing and calls just raise everything up a level, Omar speaks: the people react.
Alongside Souleyman is long time composer/keyboardist Rizan Sa'id who synthesises from his massive Korg ultra high energy Syrian Dabke music (folk party music which is performed at weddings and other celebrations). Sa'id is percussion, bass, oud, bazouk, saz and violin all in one tonight (sometimes he is accompanied by live instruments but not on this occasion), and, despite him clearly not being too happy with the sound and experiencing some technical glitches at points, he manages to rattle the room with his pounding rhythms and winding, piercing, high-pitched melodic phrases and fills.
Despite having heard Souleyman's recent releases I won't claim that I recognised everything that is played tonight. It is one of the things I personally will never get about Souleyman, he is one of those artists whose music I love to hear, but once it has finished my recall is terrible for all but the absolute catchiest of tunes – I suppose this is because I am still so unused to this music. Tonight we get the big hitters though, 'Haram'; 'Shift al Mani'; and Souleyman's most well known piece 'Leh Jani' are all instantly recognisable and, as the songs which best combine melody and relentless beats, are the ones which get the crowd feverously dancing/ moshing/ hoisting each other on shoulders.
Souleyman is the first Dabke musician I have heard, and he is considered unique in this style, but I don't want him to be the last. There are debates about how he is marketed and covered in the western media, especially in relation to his popularity in Syria and representativeness of the country's music, but when you are stood in The Deaf Institute enjoying the performance, the joyful abandon of genuinely uplifting music along with that indescribable special element simply means a perfect combination for a great show. Souleyman's annual trip to Manchester had better not end here.