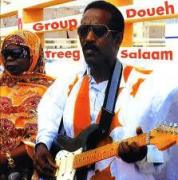 – ISLINGTON MILL, SALFORD –
There is activity across the city/cities tonight owing to this year's Future Everything Festival which is running throughout the week. In fact, I could've been somewhere else tonight as Gang Gang Dance are over at the Ruby Lounge (also reviewed on the site). But there are very few things which would've kept me away from Islington Mill as Group Doueh come to Salford accompanied by the head of their record label Alan Bishop (Sublime Frequencies which specialises in music both overlooked and obscure from around the world) and brother Rick Bishop presenting 'Brothers Unconnected'.
This is a revival of a previous tour from 2008 undertaken in tribute to their band Sun City Girls and sadly departed third member Charles Gocher who died of cancer in 2007. Tonight we get a single acoustic set of songs drawn from the Sun City Girls' sprawling back catalogue. The Bishop brothers amble up to Islington Mill's dirty white stage, don their sunglasses and almost immediately take on a devilishly spiky tack with the audience, like a particularly confrontational stand up comedy act.
The small but appreciative crowd lap this up and seem to really enjoy this slightly antagonistic style, treating it almost as an in-joke, as this comedic element frequently crops up on Sun City Girl records. In a bizarre addition to this, the brothers are heckled mid-song by an older gentleman in the crowd who makes his first assertion of the night that this is all too loud. This is all a bit surreal but, given the unusual characters that inhabit the songs of the Sun City Girls, seems strangely apt.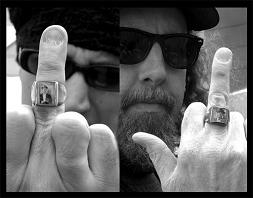 It is the Sun City Girl songs with clear comedic elements which seem to garner the greatest appreciation from the crowd tonight, including 'Eyeball in a Quart Jar of Snot', with its syncopated musical style and tale of an evil grandfather, 'Don't Ask Me Who They Are', and 'Bitter Cold Countryside'. 'Soi Cowboy' probably also falls into this category, with the unusual voices and made up language adopted by the brothers, which is also the most up-tempo song played. An additional treat is when the brothers put down their guitars and strike up a pre-recorded tape with the tune which gives this show its name. Over a fifties lounge style musical backing, Rick Bishop regales us with the explicitly amusing story of a particularly unusual encounter….and I'll leave it at that. There is a genuine giddy appreciation for these surreal tales beamed in from planet Sun City Girls, but this is only one element of the band.
Playing acoustically inevitably limits what the Bishops are able to do with the SCG's back catalogue, as it is so expansive in terms of the musical style and approach. The other clear element which I am reminded of over the night is how pretty many of the SCG songs are. 'The Imam', 'Space Prophet Dogon', 'Rookobay' and 'Cruel and Thin' definitely fall into this category, reminding us what excellent, striking voices the brothers have and the almost traditional quality to many of their songs. 'The Vinegar Stoke' and 'Wild World of Animals' are gentle instrumental pieces, which to some people may primarily be about the technical instrumental ability demonstrated by the brothers, but are too sweetly affecting for anyone not to be soothed by.
As the brothers leave the stage, this would have been enough for me given my fan-boy status and, with the devotion to the Bishops' former band, it probably should be surprising that they are not the 'headline' act.
Few artists would be able to follow Group Doueh, however, a group with nearly thirty years experience of playing to audiences throughout the Western Sahara. The band is led by guitar hero Bamaar Salmou, who is known simply as 'Doueh' (pronounced: 'Doo-way') and his wife, vocalist Halima Jakani. Doueh stands at the back of the stage, stoically overseeing the music, and Jakani is front and centre surrounded by a group of three female singers all in traditional dress. This set up includes some truly unbelievable group and solo singing, plus dancing which frequently leaves the stage and joins the audience.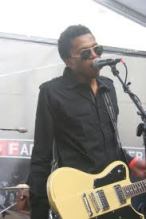 The set is split in two parts, for two thirds of the show Doueh plays the tinidit, which is a three-stringed lute, and for the final third the electric guitar. This is accompanied by a keyboard with drum program (played by the couple's son), a tbal (traditional hand drum, primarily played by female vocalist Lmnaya) and an ardin (a harp) on which Jakani also taps out rhythms. At first the music is quite jarring and doesn't sound like it all fits together, but slowly (and I am not coming to this music for the first time) I acclimatise and the rhythms, keyboard stabs, and quite abrasive and reedy sounding tinidit, all overlaid with vocals, form a groove based whole which flows through the entire set.
Songs appear to be drawn primarily from the last two albums, 2010's more traditional 'Beatte Harab' and the new LP 'Zayna Jumma' which demonstrates more of the rock elements provided by Doueh's guitar (previous albums have been compiled from the group's twenty year plus tape archive).  Tracks I identify from the first section of the show include 'Wazan Doueh'; 'Aziza'; 'Jagwar Doueh'; and 'Wazan Samat', which showcase Jakani's vocals to great effect. As the female vocalists leave the stage to dance amongst the audience, there appears some inevitable reserve as we don't know quite what is going to play out and what our part in all this is. As I look amongst the crowd though I begin to notice the amount of widely grinning people moving in one form or another and there seems to be a general recognition that we're watching something truly unique.
The final third of the set is where Doueh comes to the forefront and demonstrates his status as a guitarist of real renown. It's a brittle and choppy style, rough and raw sounding and provides trebly fills around the vocals. When Doueh takes the lead however the sound is soaring and spacious, treated with some reverb and other effects. Again it's less a show of technical proficiency and more about raising the song to another level entirely. This is put to greatest effect on the call and response 'Zaya Koum' and 'Cheyla Ya Haiunne' with the inevitable solo played by Doueh with his guitar behind his head. He does this without missing a note and you can't help but be impressed by this element of showmanship.
Grins remain fixed to faces as the crowd files out of the concert room. It all ends far too quickly which is only ever the sign that a good time has been had. What must undoubtedly be one of the highlights of this year's Future Everything Festival, and a further successful show for the ever impressive (and soon to be sadly missed) MIE Music, is due to a performance by one of the most uniquely entertaining acts I have ever had the pleasure of witnessing.