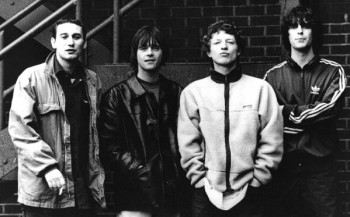 Over the last few years, reformed bands have been largely greeted by old and new fans alike with open arms and a nostalgic cheer.
However, while reunions seem to be doing a roaring trade at present, taking such a step could prove to be risky for a musician who has managed to establish themselves as a solo artist and progress quite happily along their self-beaten path. (No, Robbie Williams, don't mean you…)
One such person is John Power, a man who, despite receiving the elusive critics' seal of approval as a solo musician, threw caution out of the tour bus window this year to reform the Liverpool quartet Cast. A band that were, to some extent, overshadowed by the bigheads of the Britpop era, but have now found their slightly underrated status work in their favour after watching their shows sell out in impressive time this autumn.
However, after various largely unsuccessful attempts to move forward with the La's, you'd be forgiven for assuming that reformations are the last thing their former bassist John Power would be tempted to try.
To shed some light on these thoughts, Silent Radio had the pleasure of catching up with the man himself just ahead of the reborn Cast's apparently unexpected sell-out tour to chat about everything from choice tour bus literature to the 15-year anniversary of their defining album All Change.
So, what have you been up to lately?
Quite a lot actually, it's strange really how all this has sort of happened, there's a lot going on at the moment. What with Cast getting back together, all the original line up and everything. If you'd asked me if that would happen a few years ago, I'd have laughed. I didn't really see it coming.
It all sounds like a bit of a surprise.
Well, it was really. I wrote a couple of new songs and I thought they sounded like they could be Cast songs. Then I got in touch with a couple of the lads and said to them that I was thinking of maybe getting together again and doing some songs. They found it a bit of a shock I suppose. But then someone suggested that we do a couple of dates and it turned out to be 15 years since All Change, so we started thinking about that.
Three or four dates were planned at first and from there it all started rapidly coming together. We thought they'd slowly sell over the course of five months or whatever and in one or two cases we would have a full house, that was my hope.
How does it feel to be back with Cast again?
Yeah, I'm surprised how easily we've all grabbed hold of the songs again, it's dead exciting. I've been on my own for a long time, so I'm trying to remember what it used to be like. I'm imagining it will be like it always was. I'm feeling relaxed about it, you know? It'll take a while to absorb and I'm hoping we'll all fall into it, let it take care of itself.
Did you have any reservations about reforming the band?
Oh yeah. I mean, I hadn't listened to All Change for ten years. I don't regret any of it and in hindsight there was a great energy, it was a great album, it is a great album looking back on it now.
It seems that all of the songs on the album are on a par and get an equally good reception live.
Yeah, such as 'Tell It Like It Is' and 'Four Walls'. But that's what you need in a debut album; it's got to be that intense, especially when you're a young band.
After a tour with your old La's band mates a few years ago, a reunion and new material seemed to be on the cards, but somehow it never happened. Maybe you didn't have that same dynamic you now have with Cast where you've all been able to sail back into it so easily.
It was a long time ago – you have to make your peace with it and I've made my peace with my history with the La's. My future is their future and it's the same with Cast. I'm now realising my experiences involve the La's and involve Cast. It's not one or the other, it's both. It's not like I've got to turn my back on one to work with the other, which is maybe what I went through when I was younger.
I have a great, great bond with both. There's not a day that goes by, when I'm strumming along, playing guitar, that I don't think about them. The La's and Cast, they meander through my thoughts now, in a good way. I don't have any bad feeling. I mean, the La's are my favourite band. I'm privileged to be involved in both and I'm also kind of still working on it. It's a work in progress.
So neither band will ever be a closed book for you?
No, I don't see any reason why these things can't come into fruition; I hope they do one day. I can think of nothing better than doing a great Cast album, then helping Lee to one day do a second La's album.
A recent article on the website SevenStreets examines the Liverpool music scene and claims that at the moment, it seems to be "fractured, unfocused and frustrating, it's a long way – a very long way – from its vital, essential, and influential best". Would you agree with this? (http://www.sevenstreets.com/music-and-listening/who-turned-the-music-down/)
I'm not a young band coming through, I'm not a part of any scene, but obviously I'm from Liverpool, I remember my time with the La's and Cast and I'm aware of certain things that have been going on. I think it is fractured to a degree, that could be quite true.
I don't know who promotes the big things in Liverpool, but sometimes they seem to get it wrong. There was a music exhibition going on for the Capital of Culture thing, called 'The Beat Goes On' or something and I got a call one day from a guy who wanted to do an interview with me for it.
But, it turned out that the only reason he'd got in touch was because Bill Drummond did an interview for it and the guy asked him if he knew anyone else who would be good to talk to. I went there and they had this exhibition up and they had everything, every band, every musician from the city – it filled a whole floor and I'd never even heard a thing about it.
There are a lot of people into self-promotion and like anywhere, they've got cliques. You've got the wrong people championing the wrong things, thinking they know what's going on and you get these people in any industry. I mean, if it wasn't for a call I got from someone out of town, I'd never have even heard about it and there they had all kind of Tom, Dick and Harries lording it over this 'The Beat Goes On' thing.
I took that as a bit of knowledge and I put a feather in my hat to remind me. People pull strings and then they champion whatever, but then, separately, you have the musicians.
So, the city gets these big events not necessarily representing the music going on now or in certain pockets where something new and attention-worthy might be happening?
I don't know who is the referee of how Liverpool is perceived musically, but maybe they just haven't got a bloody clue – you've got a lot of money and organisations putting things together. Don't get me wrong, there are loads of good artistically minded people involved in these things, but there are others who are just reading books and working on getting their grants for things and that's all.
That's not my feeling though, I just keep playing my guitar. I still believe in the strength of three chords and a beat, rightly or wrongly.
I guess a lot of the attraction for dedicated gig-goers is finding a spontaneous hidden gem, accidentally stumbling on something that blows them away, something that's not necessarily part of a massively publicised event.
I just think that good bands will always make it. There are little scenes going on. I'm not qualified or an expert on these things, but, you know, they're still going on about Gerry Marsden and Cilla, aren't they?
All the same, that doesn't mean everything has to be futuristic, all neon lights and minimalist music. I don't know, you'll have to ask the people on the Arts Councils and the Capital of Culture. But I think the best people to champion the Liverpool music scene would be the musicians, their songs and the people who go to gigs. I don't know, I mean, don't quote me….
Your autumn gigs all sold out quickly – you clearly have a lot of followers from the Britpop era. With your new material, are you consciously trying to angle it towards new generations or are you hoping that this will happen organically?
With the new songs, I'm not trying to revisit anything that's happened in the past, the songs have just evolved. There will obviously be people who remember what we did last time around, there will be people who bought their first Cast album when they were 12, but there will also be people who are just getting into guitar music now.
I see a kind of mixed bag for the future of Cast. If it's anything like what I'm thinking, then we're quite a serious live band now. We've earned our stripes. So maybe they'll be viewing us how I viewed bands back when I was, well, teething, you could say.
But with the new album, it's a Cast album, it wouldn't be a parody of something else and maybe my time with other bands and my experiences will start to show themselves this time around.
Will we be hearing more from you as a solo artist in the future?
I don't know really, the thing is, we're gonna do more tours together and that's if we haven't split up by the end of this one. And if we have, then so be it, you know? If we are still here, I've got good intentions for the future. There will be a Cast album, it's going to be done because the material is getting worked on now and that's what I'm thinking about all the time, as well as rehearsing. Either way, there will be a Cast album and where that leads, nobody knows. It's a revolving door.
What will be the best thing about touring with Cast again?
It's all gonna be quite surreal, I'll say that, because we'll all be getting on a bus together and I haven't seen these lads for years. So, we've all changed – no pun intended – it will be an experience and I can only think that it'll be a good one. Regardless of whatever, this is a circle coming round again.
I think it's gonna be a great experience, a laugh, to sing them songs with the band. We should celebrate, we're gonna celebrate ourselves and whatever happens in the future, I don't know. But, it'll be weird, I mean, crawling into my bunk on the bus, I'm 43, you know!
So, no champagne and hookers?
The days of getting high on the back of the bus and staying up all night, roaring into the next town and going out – I imagine it's not going to be anything like that. One, because we're not like that any more and two, we're not interested in it anymore.
I might crack open a single malt whisky before I go to bed or I might have a beer on stage, but I've already read War and Peace, so I don't know what's next.
You'll have to move on to the bible maybe.
Well, don't get me going on that….
Indeed we won't. Many thanks to John Power.