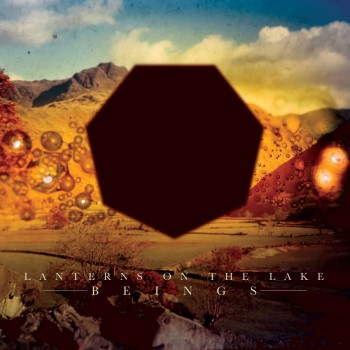 The first time I picked up Lanterns on the Lake's début full-lengther Gracious Tide, Take Me Home it was for embarrassingly superficial reasons – the band's unusual, starry-eyed name, a cover designed like a battered old book – it all seemed to give off an independent, DIY impression I hoped would reflect in their sound. Thankfully so – the album went on to be one of my go-to records, as did 2013's Until the Colours Run, the release that cattle-prodded critics and new listeners and garnered the attention the Newcastle quartet deserves.
When the release of 'Beings' was announced after the departure of two long-standing members and five years following their signing to the well-regarded Bella Union, I wondered whether Lanterns on the Lake would veer from their independent approach to production and mixing and most of all, the careful, complex sound that defined them.
The answer is no, or at least that changes have occurred, but all positive. The most satisfying thing about Beings is something very few bands manage to pull off – tracing a tangible progression from one album to the next while retaining the strongest aspects of their identity.
Opener 'Of Dust and Matter' gets straight to the point and has all facets of great songwriting ticked. The building of atmosphere and lyrics that almost anyone can relate to are glued by the mesmerising, emotive vocals and presence of frontwoman Hazel Wilde.
The track manages to paint the struggle between dark and light and eventually reconciles the two, building haunting wasteland sounds cut through with wind that give way to the soft touch of piano keys.
"Last night I passed out on the kitchen floor, with a drink in my hand and a song in my heart. And I didn't want for more, no, I didn't want for more."
Moving from personal to wider issues in 'Faultlines', a political/social edge comes through with the pace quickening through cascading piano and provocative lyrics, reminding slightly of PJ Harvey a la Let England Shake. "Money's tighter now and they keep us tame, but you know you're done when the TV's watching you, it's not what it seems like where we are, but I'm loyal to the cause, if you are." 'Through the Cellar Door ' continues this theme, coming across as a political rallying cry interspersed with rhythmic percussion, unsettlingly gentle vocals and lulling riffs.
Title track 'Beings' and the wonderful 'Stuck for an Outline' are firm highlights, showing the consistency the band has built over the years and their cohesiveness. 'The Crawl' is another must-listen, capturing the pain of relationships quite literally, with imagery of prised ribs and dripping blood.
The recurring thread of Beings, weaving close-to-the-bone desolation with glimmers of beauty and hope against an uncluttered sound, reminds me of the likes of Mark Lanegan, Tu Fawning, Duke Garwood and Hope Sandoval – a firm positive in my view.
If Gracious Tide, Take Me Home introduced their unique identity and Until the Colours Run gained Lanterns on the Lake a firm place on the musical landscape, then Beings could be described as the band's 'go big or go home' moment.
Lanterns on the Lake are in their strongest-ever place to dislodge any remaining fence-sitters and attract new waves of listeners to an accomplished, focused and professional outfit whose only trajectory is upwards.
Release Date 12/11/2015 (Bella Union)
Lanterns on the Lake Official | Facebook | Twitter | Soundcloud