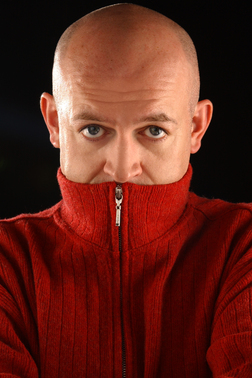 – MUSEUM OF SCIENCE AND INDUSTRY, MANCHESTER –
Manchester. So much to answer for. Here's two things for starters – kicking off the Industrial Revolution and redefining the music industry in the 1970s and 80s. Tonight's event pulls those two disparate factors together by hosting, within the impressive setting of the Museum of Science and Industry a debate about the past, present and future of Manchester Music.
Within the cavernous space of the Turbine Hall, amplified voices bounce around the copper and iron machinery. Billed as a evening of "Stephen Morris & Friends", the drummer and heartbeat of New Order (SM) is joined by Peter Saville (PS), designer in residence for Factory Records, James Nice (JN) whose label now owns the Factory back catalogue, Manchester club owner and Hacienda disciple Ross Mackenzie (RM) and PR man and media personality Andy Spinoza. (AS) The evening is hosted by Graeme Park (GP), the Hacienda legend who I am proud to include amongst my friends.
It's a vibrant an engaging debate, which perhaps understandably focuses more on the past, perhaps, than the future. SM reflects that Manchester was a miserable place in the 70s and that affected the musical output. PS adds that Manchester shouldn't believe its hype – it was indeed gloomy and that atmosphere, manipulated through his dreams, was expressed via the Factory album covers.
Manchester always saw itself as "other" and that was reflected in its interpretation of music and culture – a necessarily DIY ethic. SM distills history down to two simple truths – Factory was set up to bypass London and the Hacienda was established so New Order would have somewhere to go, where people didn't have to dress up to get down.
AS expands the argument to bring in a political angle; GP argues it was a whole lifestyle and that by buying a record, or going to the Hac, you were buying into that lifestyle; and RM remarks that, from an entrepreneurial angle, Manchester was a good place "to get things done". Ultimately Factory was, as SM points out, a "shaky construct" and one GP argues "would always end in tears".
And the future? Is the future, as PS argues, in digital media or – more prosaically – in busking, as SM concludes? Whichever is true, Manchester will always regenerate, like an urbane Dr Who. For instance Factory's office building will return early in 2010 as a new clubbing force in Manchester called… Factory. You heard it here first, more noise Manchester will ultimately have to answer for…