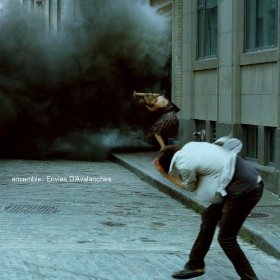 Montreal-based Olivier Alary, the man behind Ensemble, is a self-destructive songwriter a la Thom Yorke. It's not that Ensemble really sound anything like Radiohead, Alary sings in French for a start, it's just that both he and Yorke pen accessible, beautiful songs and do everything they can to fuck them up, primarily through somewhat schizophrenic instrumentation. It's a bit like a naturalist discovering a fascinating, new animal, then displaying it in a zoo in such a way so that the visitors can only see a leg here, a tentacle there, the full form never visible. Which is frustrating of course, but also intriguing as it leaves the mind to fill in the blanks…you look that much harder.
Underlying 'Envie D'Avalanches', predictably meaning 'Envy Avalanches', is a track straight out of The Go-Betweens' songbook (an excellent Australian band if you haven't heard of them), but there's a nagging high-pitched squeal throughout. Is it a violin fed through a delay peddle, a slide guitar or a synth? I can't make it out, but it gives an otherwise accessible track, a deeply surreal edge, which culminates in the pianist hitting the piano like rigor mortis is setting in, and with the same dramatic effect.
It's all pretty interesting stuff, but I am left wondering whether there really is a fascinating new species of animal in that cage, or a chicken…Album, Excerpts, out 31stJanuary 2011.
Release Date 29/11/2010 (FatCat Records)