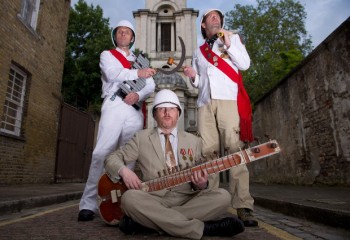 – THE DEAF INSTITUTE, MANCHESTER –
We are here at the Deaf Institute to experience the performance of a peculiar conceptual album and academic lecture with Luke Haines (The Auteurs), Cathal Coughlan (Microdisney and The Fatima Mansions) and narrated by Andrew Mueller. They describe themselves as a "dauntless trio".
The North Sea Scrolls, written by Haines and Coughlan, was premiered at Edinburgh festival in 2011 and has since been released as a complete album alongside their UK tour.
Luke Haines sets the scene (brace yourselves): "It's about some hidden information that's become known as the North Sea Scrolls. This information fundamentally would redefine the way we view our entire history as a nation, and possibly as a planet. It's no small change, this North Sea Scrolls business." Yeah, so it's an acoustic evening of spoken word and song, delivered in a topsy-turvy , whimsical manner retelling English history.
Deliberately niche some might say. I count 37 of us in the room. We are sat around cabaret-style tables. I am intrigued by what the evening holds.
Each member of the trio (plus a cellist) is wearing British colonial dress, complete with pith helmets. Andrew Mueller stands up to his lectern, officiously bangs his courtroom hammer and begins the story of scroll 1 'Broadmoor Blues Delta': a preamble about the recent adventures of Ian Ball, "frolicking in the garden with his haphazard thatched haircut". This is then followed by the song. Haines sings about the band Gomez, a Vauxhall Astra and a man who tries to kidnap Princess Anne.
This is pretty much the tone for the whole evening. Already we're not expecting to actually learn anything. Each scroll has its own little absurd narrative. Mueller will stand, bang his hammer, give us an introduction and then Haines, on his guitar or Coughlan on keyboard will lead the song. These are tuneful acoustic melodies, sometimes they mirror the mood of the words, like a musical, but sometimes they are completely at odds with them.
The scrolls have titles including 'I am not the man you think I am Karen, I'm the Actor Tony Allen'. Allen is responsible for the paintings of Francis Bacon, is the secret lover of Sid James, a patient of RD Laing, and a Northern Soul obsessive.
None of it makes sense. Each time you hope you might be able to follow some of the story, but it's so higgledy-piggledy, you can only sit back and bask in the wonder of the language – tittering to yourself, hopeful that you're not missing anything that other people get.
In other scrolls, Joe Meek is appointed the Minister of Culture by Lord Protector Oswald Mosley, Enoch Powell, the former "excitable Secretary of State for Death", is now the Poet Laureate. A whole raft of names crop up in their historical meanderings including Charles Bronson, Sid James, Gazza, Fleetwood Mac and Louie Walsh.
I am Falconetti, Scroll 5 is my favourite of the evening, sung by Haines. It is a beautifully slow ditty all about Chris Evans (the "light entertainment deity") "I am Falconetti and God spoke to me, he said cry no more for Jimmy five bellies, save your tears for Billie" and the chorus: "Hospital radio to the breakfast show, the flames kissed the golden curls.." And so it goes on.
Musically I find Haines' scrolls more tuneful and easier on the ears than Coughlan's which are bit harsher and angrier.
For the final scroll, we are asked to "be upstanding Northshire" and sing along. With words on the screen we join in as if it's the most ordinary thing in the world: "Evans has gone and Baker has gone, he's a latter day saint and a seer… but Gazza's got plans for Britain's most wanted man" .
The quirky Britishness of it is all very charming. It never ventures into hammy comedy and remains firmly in the camp of dry satire. I am surprised, confused, impressed, uplifted. This evening has been a creative breath of fresh air, a change from all the earnest music making, a triumph of ingenuity with language and storytelling. It really needs to be heard to be believed and done justice.